Golf Ball Printer Custom Golf Ball Logo Small UV Printer
If you are looking for a Golf Ball Printer for Custom Golf Ball Logo printing like Small UV Printer, please see below our professional UV flatbed printer small size series. We think this is the best choice for you as it can print any custom image like Logo on the Golf Ball.
Golf Ball Printer for Sale

For different size (A4 UV printer / A3 UV Printer) or series (desktop / industrial class) printer for Golf Ball Printer.

There have different specification and function, also the different Golf Ball Printer price

US$1,350 for A4 (Contact Now For Other Model)


Golf Ball UV Flatbed Printer
Below we will introduce our Golf Ball Printer to you so you will know about our Golf Ball UV Printer. We have different size printer for Logo, Image, Text printing on Golf Ball. Different price of the printer for your selection
Golf Ball Printer Specification
| | |
| --- | --- |
| Print Head: | Epson L1800 |
| Print Size: | 280*440mm(UV) |
| Print Height: | 0-85mm |
| Ink Supply System: | Damper CISS |
| System Require: | WIN7 / WIN10 |
| Height Adjustment: | Electronic automatically |
| Working Environment: | 25-30C, 50%, Dust free |
| | |
| --- | --- |
| Type: | Desktop Golf Ball UV Printer |
| Color Channel: | CMYK+2W |
| Support Print Process: | White Ink Decrease |
| Support Ink: | UV Led Ink |
| Interface: | USB Cable |
| Print Software: | RIP software |
| Power: | AC 110/220V, 50Hz/60Hz |
Above specification is for our A3 model Desktop small UV printer, if you would like different smaller/larger printing size we have A4/A3+, welcome to contact us for more detail.
What Our Golf Ball Printer Can Do?
Golf Ball Printing Machine is now available for Custom Golf Ball Logo very easy, our small uv printer will be enough and best choice for you, if you would like to know more about our golf ball printer, please feel free to contact us directly.

1. Logos. By our Golf Ball Printer you can print any Logo of company or what else Logo you would like to print on the Golf Ball.
2. Photos. You will be able to print photos that you would like to show on the Golf Ball or any image.
3. Text. It is very easy to get your favory text on the golf ball.
* All sample showed in our website are printed by our printer
Our small Desktop Golf Ball Printer is best choice for the Golf Ball Logo printing, as it is Inkjet Golf Ball Printer which will not need any printing template made and quantity limited even as personal golf ball printer for small quantity printing. The normal skill printing will need to make a kind of woven screen to print a certain quantity golf balls. But our Small UV Golf Ball Printer will not have these limit, you can print even 1 golf ball in 1 image or Logo. You can print any different Logo on each golf ball at one print process by our golf ball printer. It is different kind of Golf ball imprinter and it is desktop UV printer for flexible printing
Fixture/Jig For Golf Ball Printing
You can find the Flexible Jig for reloading very fast you do not need to reload the Golf Ball one by one but change the whole Jig or Fixture to start the next print job, larger print size machine can print larger quantity gold ball at one time.
Seeing some picture of our inkjet golf ball printer sample above, it is printed by our uv printer, we have also the video demo. If you purchase our golf ball printer, we will have a series golf ball printing tutorials about how to print on golf ball, and if you tell us you are going to print on golf ball, we will provide a free template of golf ball printing, as well as the jig of it.
Golf Ball Printing Video Demo
You will see a real sample printing video below, we only do real sample printing by our series flatbed printer, you will see how we print the sample and you will be able to do the same printing job easy when you get the printer.

How Does Our Golf Printer Print Golf Balls
It is quite Easy to operate actually.

Step 1. You just prepare the Logo/Image which you will print on the Golf Ball.
Step 2. Process the image in Photoshop (We have tutorial about processing image easy)
Step 3. Put the Jig which locating the Golf Ball already
Step 4. Start to print directly and complete

Our model Low Cost UV Flatbed Printer for Golf Ball Printing
Below are our UV Printer that can be Golf Ball Printer for Golf Ball printing business. Desktop UV printer A4/A3 and Industry UV Printer series.
A4 Desktop UV Printer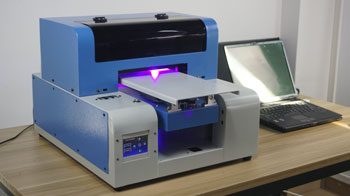 A4 Size with economy version
Click to See Detail
A3 Desktop UV Printer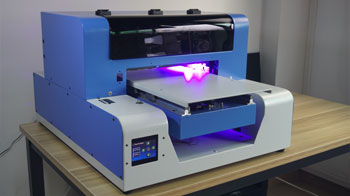 A3 Size most popular for start
Click to See Detail
A3+ Industry UV Printer
Industry version for fast speed
Click to See Detail
Golf Ball Printer Packing Size and Weight
| | |
| --- | --- |
| Package Type: | International Wooden Crate |
| Dimension: | Depends on Model |
| Net Weight: | 38KG-70KG (Depends on Model) |
| Gross Weight: | 40KG-90KG (Depends on Model) |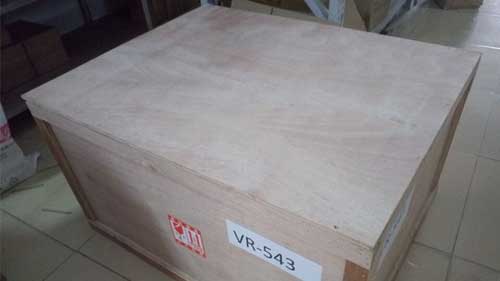 1.Delivery of the Golf Ball UV Printer

Many of Golf Ball Printers has been sent to many countries in the world for more than 10 years. We have experience of packing. International Wooden Carton is good protection of the A3 UV flatbed printer delvery during transportion, adding buffer inside carton for Golf Ball printing machine, can be sent by Couriers like DHL/FedEx/TNT, also you can make them in sea freight shipment From our workshop directly to your hand, door to door shipping.
2. Testing of our Golf Ball Printer before sending

All our printers we have the quality inspection for every production step, also we will have a final test before sending out the printer. We make video for final testing and we have label on the Golf Ball Printer of the order and have film on the printer after final test.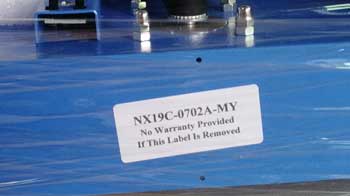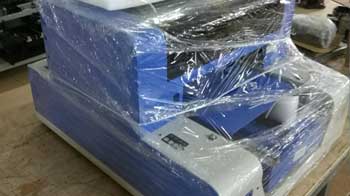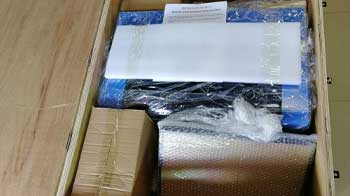 Golf Ball Printer Arrive to Customer
The package normally send by courier like DHL/FedEx/TNT, or sea freight, you can request to send to your forwarder warehouse. When the Deskto Golf Printer arrives you can see same as how we packed after testing before sending out. Here comes some Golf Ball Printing Machine photos of our customer when they had our machine.
Neixo Golf Ball Printer Advantage
As Original Manufacturer with UV flatbed printer engineer team and 15 years UV printing experience, we provide factory technical support, this is a very important thing for buying a machine.
1. Neixo Golf Ball Printer Manufacturer

Showing photos of our production line including our material warehouse, production workshop, packing house, stock warehouse, workers. We have all process for producing UV and DTG printer. Welcome customers come and visit our factory, showroom for seeing our printer directly.
Machines Ready for Delivery
Worker Check Material Stock Seriously
Everyday Sending Printers Out
Sufficient Metail Stock for High Capacity
Working Carefully in Production
Customer in Factory Visit
Manufacturer Stock of Material
Professional Equitment for Well Delivery
NEIXO STAFF
2. Famous UV Printer Exhibitions

We also put our Golf Ball Printer in digital UV printing field business and machine trade show and exhibition for showing our printer to potential customer. People see in real printing job in the trade show and were all feel amazing about our printers.
Service of Golf Ball Printer - Factory Engineer Technical Support
One of the most important advantage of buying from original manufacturer is the after sales service. We provide the step by step, very detailed tutorials in video of our Golf Ball Printer. After seeing all our video tutorials, you can be easy to understand how our rinter work and the setting of software, how to make the T shirt image for printing etc.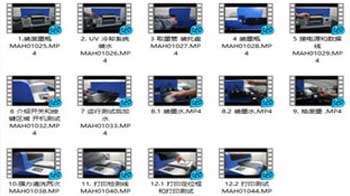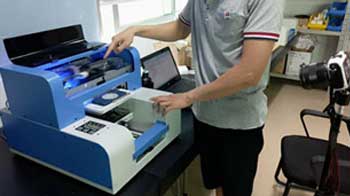 Golf Ball Printer helps your business easier as the convenience is a very good advantage, you can accept golf ball logo printing order and start the printing business right away without waiting for any template making, the only thing you need is to purchase one, about the golf ball printer cost, just feel free to contact us!

Golf Ball Printer is a very good machine for golf ball printing directly. Fast, Easy, Flexible are the advantage! Contact Us Now for It Now!