Acrylic Invitation Printer -Custom Wedding Invitation Card Printing
As the original manufacturer of the Acrylic Invitation Printer, NEIXO has more than 15 years of small UV printer production experience. As the manufacturer, we have an engineer team and workers team, also the technician team for supporting the after-sale service of our acrylic invitation printer.
Acrylic Invitation Printer can print any image on the acrylic wedding invitation, custom images, text, stunning clear, or any color, shape, size acrylic invitation.
Acrylic Wedding Invitation Printer
Small size acrylic invitation card printing machine
There are many materials for the invitation, one kind of popular invitation is made by acrylic.
NEIXO Provides the best features to all our small UV flatbed printers like the auto cleaning system, cooling system. Of course, our acrylic invitation printer includes them all.
Even for small UV printer series, we make what we can to add more functions.
Tell us what you would like to know about, the Price? Weight? Sample Request? Just feel free to talk to us.
PEASE see the video here of our acrylic invitation printer doing the printing job of the wedding invitation acrylic sheet printing.
No matter it is clear acrylic invitation of the color one, transparent one of solid one, we can process the printing job on it. 
We insist on making video demo by ourselves.
Acrylic Invitation Printer Application
All Samples from our Acrylic Wedding Invitation Printer
There are many kinds of wedding invitations on acrylic, you can DIY the invitation and custom any image by your design, sign printing, envelope printing, etc. 
NEIXO - Your Trusted Acrylic Invitation Printer Supplier
Our Acrylic Invitation Printer can do the printing on various kinds of wedding invitation cards, to let the wedding invitation card become unique and beautiful. 
You can see our acrylic invitation printer effect and detail function in below sections, so you can know more about our acrylic invitation printer.
NEIXO Acrylic Invitation Printer Advantage
There are Reasons You Purchase NEIXO Printer
We understand that you are going to print on invitation card in acrylic, firstly the acrylic invitation printer is based on the UV flatbed printer, our small format UV printer can do printing on the acrylic sheet then, of course, can print on acrylic invitations. And there are a lot of printing effects our acrylic invitation printer supported. 
The embossed effect is a standard printing effect by our acrylic invitation printer of UV printing. We can control the embossed thickness to suit what you need.
Varnish Invitation Printing
VIDEO
This is the video in which we use the varnish acrylic invitation printer to do the full printing process of white  + color + varnish printing.
It can directly print a small part of the varnish not full of it.
The Best Printer for Start up Business
NEIXO makes the small size UV flatbed printer as the acrylic invitation printer, thus we can get the cheap and low price but with very good function and stable quality for small and start-up entrance level business.
For A4 A3 size desktop UV printer, we can get very low cost with the low shipping cost, for industry class UV printer we can get much fast speed production.
Jig/Fixture for Mass Production
No matter what shape of your wedding invitations, we can make flexible jigs and fixtures to hold the invitation cards so the mass production time is fast.
Our industry-class UV flatbed acrylic invitation printer is the best one for mass production. 
Precise Positioning for All Invitation Cards
In each print, the location of the invitation cards will not be changed, thus the images on the wedding invitation card can not be different too. NEIXO acrylic invitation printer is the guarantee on this.
Our acrylic invitation card printing machine will get the same place printed always.
Acrylic Invitation Printer For You
Since we are a professional manufacturer, our printer model covers desktop up printer to industry UV printer, if you do not know how to choose the correct acrylic invitation printer for you, please CONTACT US directly, our professional sales team will provide suggestion to you.
Review Photo Of NEIXO Acrylic Invitation Printer
You will receive an acrylic invitation printer like the below photos which are all sent by our customer who purchased our desktop UV flatbed printer over the world, as we have been sending thousands of small size UV flatbed printer.
To all NEIXO A3 UV Printers we sold out, we have a serial number on the printer and we will make sure the printer is the correct one you are going to purchase. We will have a well-packed film to protect your printer during delivery.
Professional Service and Support
Manufacturer Engineer Technical Support
It is the UV flatbed printing machine for the wedding invitation printing, so it must have to know about the setup, software setting, printer operation. We NEIXO as the original manufacturer of our acrylic invitation printer will provide you full set tutorials, including the step-by-step video, instruction PDF, and technician after-sales service. 
"Please do not think to much, buying acrylic invitation printer from NEIXO will never be a bad choice. "
Packing of Acrylic Invitation Printer
Real Customer Reviews Photos
1.Delivery - Acrylic Invitation Printer
We put the acrylic invitation printer on a very strong
wooden crate
for international shipping, to protect the printer we also add a lot of buffer inside around the UV flatbed printer, make sure the printer is in good condition to your hand.
2. Inspection Acrylic Invitation Printer before shipment
To all of our acrylic invitaiton printer, before sending out, we will do the final inspection of all whole printer to make sure the printer can be in a property situation. 
And we can make the label on the printer to make the testing video. If you would like to see the video please you can contact us to get it.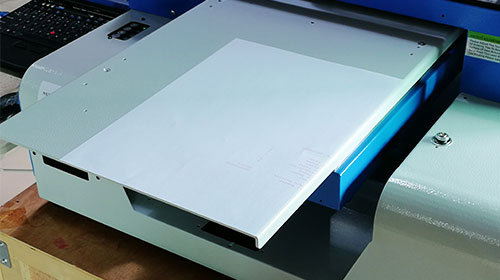 Your Reliable Acrylic Invitation Printer Manufacturer
Own Engineer Team and Workshop
As the 15+ years experience flatbed printer manufacturer, we have been in the market with our own sales team, worker team, 3000+ square meter factory, our engineer teametc. 
Acrylic Invitation Printer Stock
Worker Check Material Seriously
We trust, our Acrylic Invitation Printer can grow your business, please feel free to contact us now!
Contact For Acrylic Invitation Printer!
You may have many questions on the Acrylic Invitation Printer. Just feel free to send any message to us we will reply to you within 24 working hours!