Golf Ball Printer
Custom Golf Ball Logo Small UV Printer
If you are looking for a Golf Ball Printer for Custom Logo printing on Golf Ball such as a Small UV Printer, please see below our professional small size UV flatbed printer series. We think this is the best choice for you as it can print any custom image like a Logo or brand name on the Golf Ball.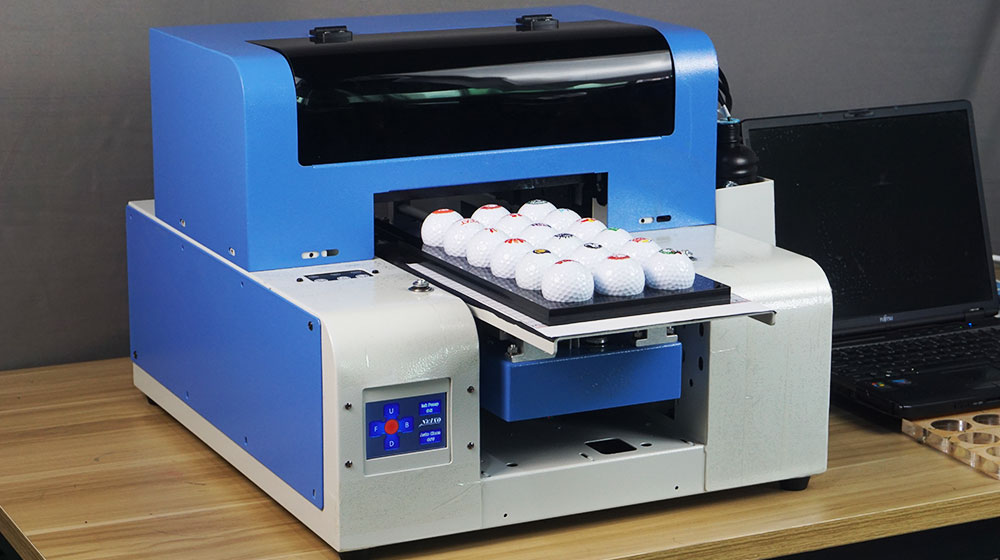 Neixo Digital Golf Ball Printer for Logo Printing. UV technology for the best printing business. 
Golf Ball Printer for Sale
Small Size Golf Ball Printing Machine
For more information, and price please contact us now!
Golf Ball Printing
VIDEO
Demo
You will see a real sample printing video below, we only do real sample printing by our flatbed printer, you will see how we print the sample and you will be able to do the same printing job easily when you get the printer.
There is showing Golf Ball Printer which you can do the same job after you purchase our printer.
Our model Low Cost UV Flatbed Printer for Golf Ball Printing
Almost all kinds of logo or design with different colors could be printed by our UV printer​
Below are our UV Printer that can be Golf Ball Printer using for Golf Ball printing business. Desktop UV printer A4/A3 and Industry UV Printer series.
Print Custom Golf Ball Directly
Below Photos for All Samples are Printed by Our Golf Ball Printer
We are printing samples every day, all the samples shown on our website are printed by our UV flatbed printer. We sincerely wish that you can see the whole page below as you will know clearly about our Golf Ball printer.
Golf Ball UV Flatbed Printer
Below we will introduce our Golf Ball Printer to you so you will know more about our Golf Ball UV Printing machine. We have different sizes of the printer for logos, Images, Text printing on Golf balls. There are Different prices range of the printer for your choice
Golf Ball Printer Specification
NEIXO Golf Ball UV Printer
| | |
| --- | --- |
| Print Head: | Epson L1800 ( For A3 UV Printer) |
| Type:  | Desktop UV Golf Ball Printer |
| Print Height: | 0-75mm |
| Ink Supply System: | Damper CISS |
| System Require: | WIN7 / WIN10 |
| Height Adjustment: | Electronic automatically |
| Working Environment: | 25-30C, 50%, Dust free |
| | |
| --- | --- |
| Print Size: | 280*450mm ( For A3 UV Printer) |
| Color Channel: | CMYK+2W |
| Support Print Process: | White Ink Decrease |
| Support Ink: | UV Led Ink |
| Interface: | USB Cable |
| Print Software: | RIP software |
| Power: | AC 110/220V, 50Hz/60Hz |
Above specification is for our A3 model Desktop small UV printer, if you would like different smaller/larger printing size we have A4/A3+, welcome to contact us for more detail.
What Our Golf Ball Printer Can Do?
What You Can Get by NEIXO Golf Ball Printer
Golf Ball Printing Machine is now available for Custom Golf Ball Logo very easy, our small UV printer will be enough and best choice for you, if you would like to know more about our golf ball printer, please feel free to contact us directly.
1. Logos. With our Golf Ball Printer, you can print any Logo of the company or what else Logo you would like to print on the Golf Ball.
2. Photos. You will be able to print photos that you would like to show on the Golf Ball or any image.
3. Text. It is very easy to get your favorite text on the golf ball.
Our small Desktop Golf Ball Printer is the best choice for the Golf Ball Logo printing, as it is Inkjet Golf Ball Printer which will not need any printing template made and quantity limited even as personal golf ball printer for small quantity printing. 
The normal skill printing will need to make a kind of woven screen to print a certain quantity of golf balls. But our Small UV Golf Ball Printer will not have these limits, you can print even 1 golf ball in 1 image or Logo. 
You can print any different Logo on each golf ball at one print process by our golf ball printer. It is a different kind of Golf ball imprinter and it is a desktop UV printer for flexible printing.
Video
for Printing Same logo on Golf Ball
Please see the video that we are going to show you how we printer directly the Logo onto the Golf Ball by our NEIXO Golf Ball Printer.
We do the printing video Demo by ourselves! As we are original manufacturer.
Contact Us Right Now !
If you ares interested in our Golf Ball printer, please feel free to contact us Now!
You can Customer Golf Tee by Our Small Desktop UV Printer
With NEIXO Golf Ball Printer, you will not only be able to print on Golf Ball, but also you can do the printing job on Golf Tee as the Golf Tee Printer.
Customs any image, Logos, or text on the Golf Tee.
It can highly let your Golf Tee more special and easier to be identified, as everyone like to make their own personal symbol for the game. With the golf ball and golf tee printer, you can make your own custom golf tee.
For most size golf tee, our small size desktop UV printer can print on, like what we show in our picture that we print the sample by our UV Golf Tee Printer. Using the jig we can hold a full plate for printing.
We can use the golf ball printer to do a lot of items like as a golf tee printer, golf ball, golf ball gift printig, even the small boxes for golf ball gift boxes with the personalized logo and images to other text on the surface or top of the box.
Video
of Custom Golf Tee Printer
We can also make a special jig and fixture for the golf tee printer like what we showed in our video here. 
You will find it is easier than you thought as the operation is quite simple we have step-by-step tutorials for it.
Small Golf Ball Printer For Start-up Business
Low Cost for Golf Ball Printing Business
Our Neixo Golf ball printer can help you to gain small order with small quantity business request so it will be very suitable for start up business or called entry level, like company Logo as the gift for different customers. 
Friend or family customized gold balls etc. 
And because in ball golf ball playing game, people will need the Logo or mark on the golf ball to confirm which is the owner the golf ball belong to and it is a kind of sign to tell that the golf ball is specially one as it has the unique logo or mark on it.
Also, you can print a small QR code you can print on the golf ball then you can make your website link, or your Instagram, Facebook, YouTube link, etc, it can be a promotion gift to all customers for small businesses.
Now using our Golf ball printer, you can tell the people that you have the ability to print any image on the golf ball and it does not need a large quantity, even 1 piece for a birthday gift in decorating the house, you can accept the job.
Video
for Printing Different Logo On Golf Ball
And it will be easy to get the money by doing this business. As the price of our golf ball printer is cheap you can get the printer at a very low cost. We have a different models like A4 UV Printer for very economic choice, A3 UV Printer for the larger printing quantity choice, Industrial model for high load printing business.
Contact Us Right Now !
If you ares interested in our Golf Ball printer, please feel free to contact us Now!
Fixture/Jig For Golf Ball Printing
Easy to Make Mass Production
You can find the Flexible Jig for reloading very fast you do not need to reload the Golf Ball one by one but change the whole Jig or Fixture to start the next print job, larger print size machine can print larger quantity gold ball at one time.
If can save a lot of time and easy to control the printing process, each Logo or Image can be done according to our Jig by you.
Seeing some picture of our inkjet golf ball printer sample above, it is printed by our uv printer, we have also the video demo. 
If you purchase our golf ball printer, we will have a series golf ball printing tutorials about how to print on golf ball, and if you tell us you are going to print on golf ball, we will provide a free template of golf ball printing, as well as the jig of it.
NEIXO Golf Ball Printer Advantage
Low Cost Desktop Golf Ball Logo UV Printer with Full Function
Golf Ball Printer -Automatic Head Cleaning System
Avoid Head Clogging Issue
Automatic Print Head Cleaning System is what we complete to our new series flatbed printer which is a very important feature function for UV Flatbed Printer.
It will let the printer process the Head Cleaning job twice a day for the Golf Ball printing machine by UV technology.
Since we know well about customer consideration, the head clogging solution is most important to our customer so our Automatic Head Cleaning System can support to avoid the issue.
NEIXO Golf Ball Printer - Auto Height Adjusting
Adjust the Tray Height Automatically
Even this is a kind of small desktop UV flatbed printer at about $1000, we also add the auto infrared height adjusting function on NEIXO A4 UV Printer.
When the item is higher than the limit bar, it will auto low down to a suitable height, to avoid print head hitting and for better print quality. 
Golf Ball Printer - Circulation Water Cooling
NEIXO A4 UV Printer completed with water circulation cooling system which can make sure the UV Led can run in a normal situation always. 
As the UV LED working temperature is very high during production, we have to make a suitable cooling system for A4 UV Printer so it will not down after production starts.  
Touch Screen Control Panel by NEIXO Golf Ball Printer
Upgraded Controlling Panel
Touch Screen with the control buttons on the control panel is the upgraded version of the old Golf Ball Printer which was the manual knob version.
The new Touch Control Panel is Easy to control the tray and ON/OFF of the auto head cleaning system.
Ask For Price Now !
You want to know more about the printing process of the tempered glass phone case printing, just click the below button now!
Buyer Show and Review of Golf Ball Printer
Golf Ball Printer Arrive to Customer
We usually send out the printer carton by courier like DHL/FedEx/TNT, sometimes sea freight as request, and to the forwarder warehouse if you have a special request too. As the best Golf Ball printer for small businesses, the shipping costs to all over the world is also a kind of important thing we have to consider. 
Below are some photos of our small size Golf Ball printing machine sent by our customer when our customer gets the Golf Ball printer. You can see the packing is the same as how we make the package when we send out the printer.
Honorable Customer Review
There have been thousands of flatbed printer including Golf Ball Printers that were sent to the customers over the world since 2012 we start a foreign business. 
Honest Customer Review.
This is a video from our customer in United State who had purchased our NEIXO flatbed printer in 2021, he is very happy with our flatbed printer and willing to make a recommendation video for us.
And at the same time, he decided to purchase the second flatbed printed from us. 
NEIXO have been ready for your purchase of any golf ball printer any time.
More Than Golf Ball Printer
Other Purpose You Can Do By Our UV Printer
Not only the Golf Ball Printer you can consider our UV printer as, it can be also the multi purpose UV flatbed printer that can do a lot of printing purpose, like printing cell phone case, acrylic, wood board, USB flash drive, metal name plate, pen, leather bag etc. 
It is far more than what you can imagine, we truly think that you can get more and more business by using our small size UV printer, not only for Golf Ball Printing business, to think more, to do more. 
Packing of NEIXO Golf Ball Printer
Real Customer Reviews Photos
1.Delivery of the Golf Ball Printer
We have been sending out our Golf ball Printer all over the world. By our experience of flatbed printer packing, we pack them in International Wooden Crate which has very good protection during transportation, with buffer foam inside the Wooden Crate for Golf ball printing machine, it can be sent by DHL/FedEx/TNT, even we can send by sea freight shipment or to your warehouse if you have in China. From the factory to your place directly.
2. Testing of A4/A3 Golf Ball Printer before shipment
We have a series of printer quality control and inspection during our production of each step manufacturing, after getting your order of Golf Ball Printer, we will have a final test and inspection before sending out the printer and keep record . There will have a video for the printer testing with your order label on, adding the film to the printer after the final test, and prepare to send it out to your hand.
WHY NEIXO GOLF BALL PRINTER?
Professional Service Team Support
Manufacturer Engineer Technical Support
The most important thing about buying a printing machine from a manufacturer is the after-sales service. We have the step-by-step video, detailed tutorials in the video, and instructions on our small size Golf Ball Printer. Normally after getting through all tutorials videos, our customer will understand all the operating steps and know-how our printer works, also the setting of RIP software, how to process printing on a Golf Ball, etc.
Small size Golf Ball Printer helps your business grow as the convenience is a very good advantage, you can accept small printing order and start the printing business right away without waiting for any woven screen making, the only thing you need is to purchase one, about the printer cost, just feel free to contact us!
Neixo Golf Ball Printer Advantage
Original Manufacturer Engineer Team and Workshop
As the Original Manufacturer, we have our own engineer and production team for Golf Ball Pinter and other Small UV Flatbed Printer, and with 15 years of A4 and A3 UV printer production experience, we have our advantage with factory technical support providing to our customers which we know always is most important for a kind of Golf Ball printing machine.
1. Golf Ball Printing Machine Manufacturer
We show our factory photos below for your reference, there are including the material warehouse, production line, manufacturing workshop, stock of printer warehouse, packing department, Customers visiting the office, also our good staffs. All production processes are made in our factory that we can control the printer quality and we can provide the OEM service for the phone case printer. We surely welcome you to visit our office and factory any time to see everything in person directly.
Golf Ball Printer Ready for Delivery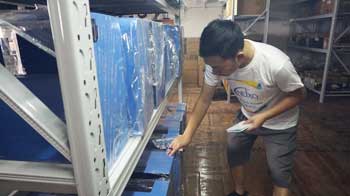 Worker Recording Material Seriously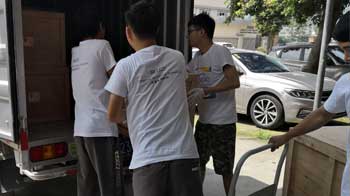 Everyday Delivery of Printers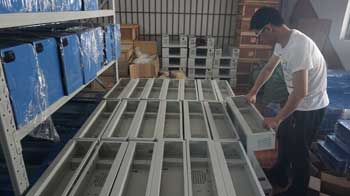 Carefully and Seriously  in Production
Careful Flatbed Printer Inspection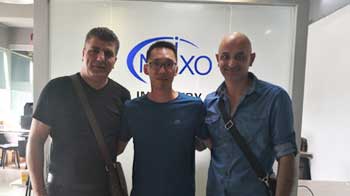 Customer in Visiting to Neixo Factory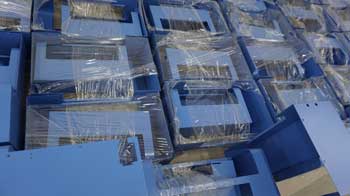 Sufficient Material Stock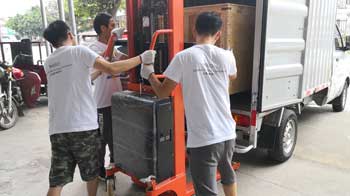 Worker Recording Material Seriously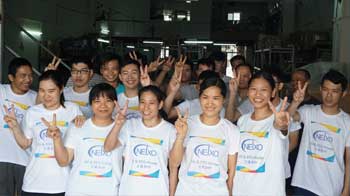 NEIXO Factory Worker Team
2. Famous Small Format UV Printer Exhibitions
We have been showing our Golf Ball Printer in UV DTG printing trade show and some exhibition for business and machine trade show for showing our printer to customers. A lot of customer directly make order after seeing our printer in person about the operating, they all feel amazing of our printer and technology.
Our Small Format A4 Golf Ball Printer is really a good printing machine for custom Golf ball printing business, it is the best golf ball printing machine for small businesses. Fast and Easy operation is the advantage of our printer! Contact Us for It Now!
Golf Ball Printer: The Definitive FAQ Guide
1. What is Golf Ball Printer of Neixo
What the
UV Printer
is? It could become a very good Golf ball printing machine using for printing logo or image on the Golf Ball. We are original manufacturer with more than 15 years experience on flatbed printer production, we control the cost well with our scale and provide cheap Golf ball printer for many customers to open their new printing business.
Neixo direct to substrate small UV A4 / A3 flatbed printer is an ideal UV digital Golf Ball printing machine to support you for customized Golf Ball with your own design logo or image, can be used for a Golf Ball Printer.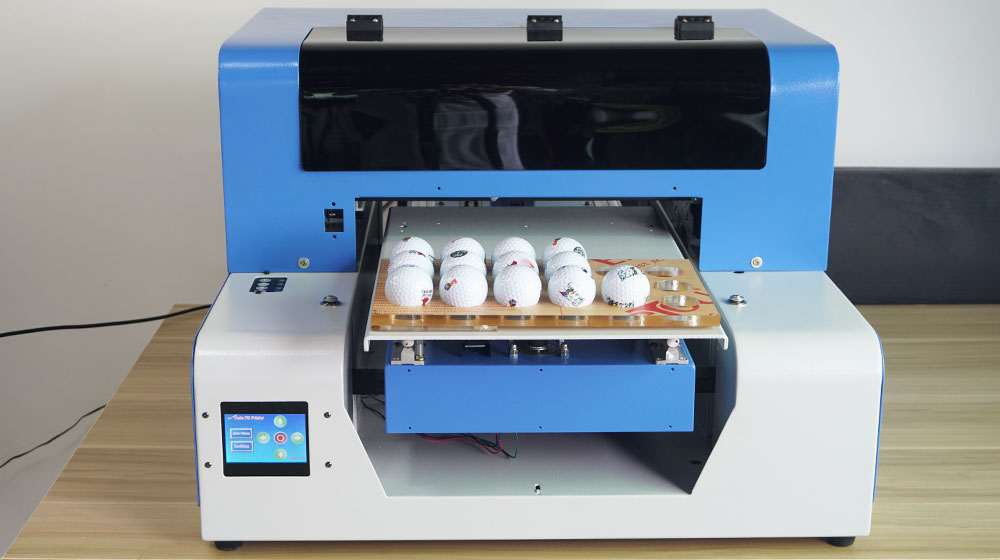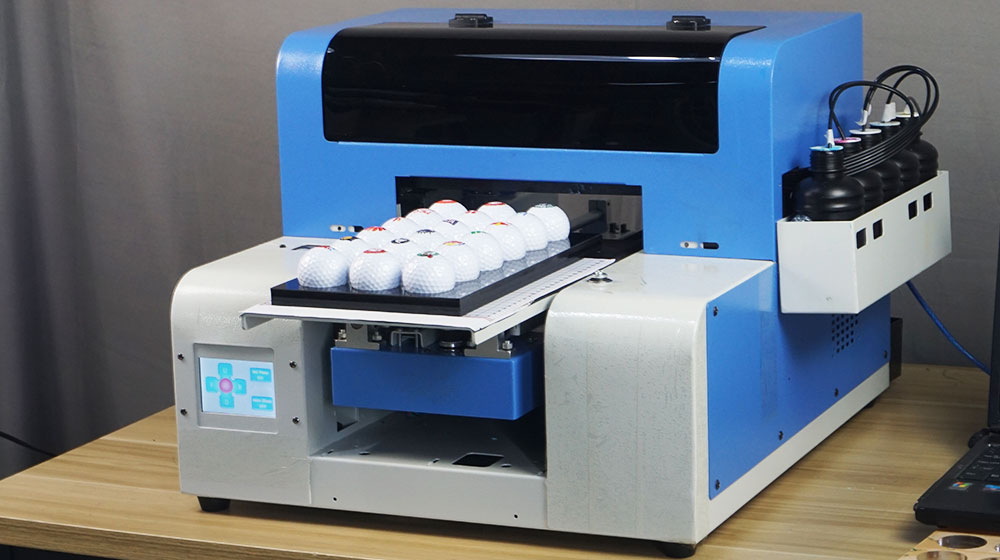 2. Start-up Or Home-Based Golf Ball Printing Businesses
With the development of the printing technology, the customized golf ball printing business are not just making by the professional golf clubs or workshop. Work with an small UV flatbed printer,  it can become a printing solution for DIY Golf Ball Printing. 
Neixo golf printer will help you capture the small orders, like company logos, brands logo, celebrating of family and friends customized golf balls, souvenir for celebrating , as well as for some small Golf Ball match or campaign .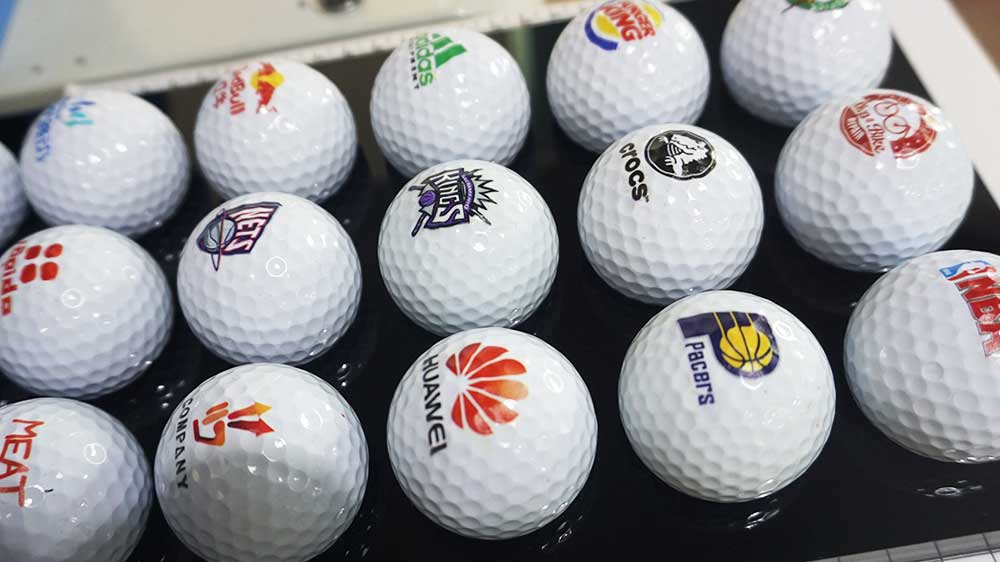 3. NEIXO Golf Ball Printer For Different Kinds Of Golf Products
Golf Ball Game become more and more popular recently, so golf promotional products becoming an much easy and effective tool to connect with your client when they take their golf clubs or golf team for a match.
Golf ball printer is not only using for Golf Ball Printing. Expanding the ideas, we could use it for Other Golf Products printing, For Example, golf tees, and golf markers or more
Customized printed golf balls can be a promotional item, a gift or as a special & unique remarks for the player. Business owners could also consider use the Golf Ball printer for some popular or hottest products related to Golf Market and not only just for golf games and sports.
A logo is the very important factor that could pass the special message or information to the customer, So If the logo is made on the golf ball in right way, it will be easy to be remembered by customers and helpful to expand businesses. There are different way could connect the business with the customers. For example, through promotional golf products.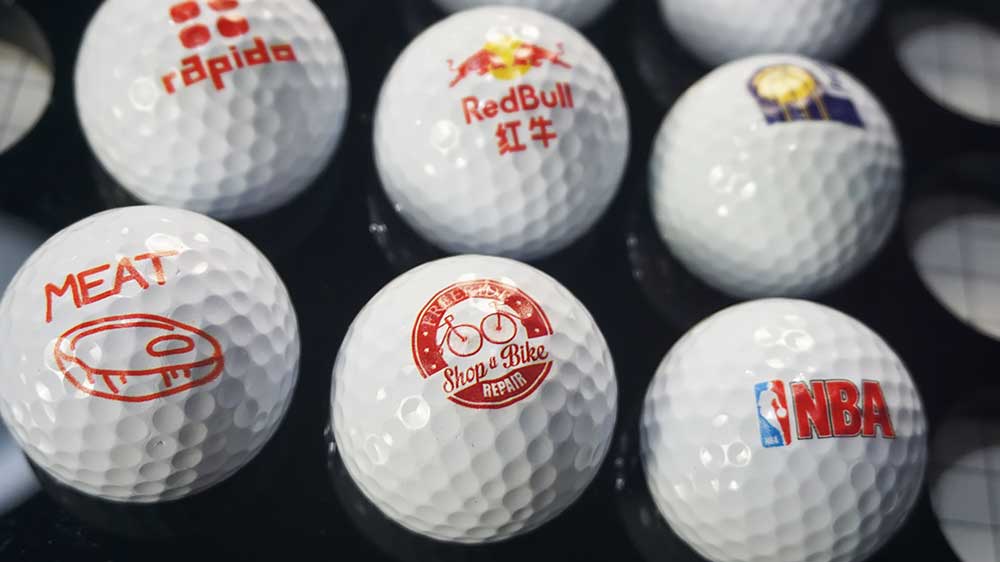 4. How Does Our Golf Ball Printer Print Golf Balls
Step 1. You just prepare the Logo/Image which you will print on the Golf Ball.
Step 2. Process the image in Photoshop (We have tutorials about processing images easy)
Step 3. Put the Jig which locating the Golf Ball already
Step 4. Start to print directly and complete
5. What's The Different Between Golf Ball Printer And Pad Printing On Golf Ball
Pad printing on Golf Ball is typically used for printing in mass quality.It is more suitable for printing single or simple color. It it not effective for just print in small quantity even though just want to print different logo once on each ball.
If we just want to print some small quantity or complex colorful image , Pad printing method is hard to achieve that. 
However, the uv golf ball printer could do it very easy on small quantity printing business even though just print on one ball with different logo, and it would be dry at once after printing. 
So A Golf Ball printer will bring you much more DIY and customized business from golf ball games, family gathering ,celebration or so on.
Never Hesitate to Contact Us Directly!
You may have many questions or inquiry about our Golf Ball printer, it may be price of our printer, operations, tutorials or supports. Just feel free to send any message to us we will reply to you within 24 working hours!
Great price/quality. It arrived very quickly and with no problems. The supplier was very helpful and the replies were very quick too. Supplier service 10/10, now waiting for the after sales service. 👍🏻
Beyond
Spain
I really like this UV machine, very easy to use after checking the instructions from the supplier. We use it for phone cases and makes a great job for us. The personal resolve all our doubts since I bought them from the U.S.A. and they're so friendly and helpful. Thank you
Aglaez
United States
Teresa was amazing to deal with. She stayed on top of the order, despite there being many changes for delivery. She constantly kept in touch to see that things were on track and after shipment from China she continually let me know how far the machine was. I have totally enjoyed working with her and will definitely work with her again. Superb service and great, quality product
Debbie
South Africa
After looking at ddg machine for some time I dicide to take the risk I have to say I was surprised the communication was fast (even Sunday) All my question answered and for 2k machine... It's work very well If you want to try DTG printing and not spend 20k that's a highly recommend machine Just one last comment not the fastest machine on the planet but ... For 2 K I cannot complain
Issy
Australia