UV Wood Printer
Direct Digital Custom Inkjet Printing on Wood
Wood is a very special material, it comes from nature and can be used in many places. As a professional UV wood printer manufacturer, we have more than 15 years of digital inkjet small size and format UV flatbed printer producing experience. Our own engineer team design our series UV wood printer by ourselves and a professional worker team for production.
You can use our UV wood printer to do the printing on wood like wood plates, wood signs, wood name plates, wood boards, and wood MDF, plywood sheet, for custom photos, pictures, Logo, sign printing business.
Small Size UV Digitally Inkjet on Wood Printer
NEIXO Provide full feature on our UV Wood Printer no matter on the desktop wood printer or the industrial wood printer.
Feel Free to contact us to inquire any questions.
Even for small size desktop UV flatbed printer, we put our good feature to the printer for you
UV Wood Printing Machine
VIDEO
We insist on printing samples with our own series UV wood printer, in this video, you will see directly how we do digital inkjet printing on wood.
We have a series of UV wood printers, in the video we use an A4 UV wood printer as a demo, please feel free to ask us to show you more model printing demos.
We insist on making video demo by our UV printer.
NEIXO UV Wood Printers Series
Choose the Suitable UV Printer for You
NEIXO is original UV flatbed printer manufacturer, we have a series small size desktop UV printer and the industrial UV flatbed printer as the digital UV wood printer for your selection. Low cheap price desktop A4 UV printer, most cost-effective A3 UV printer, also the middle size industry UV printer 4060 dual head series.
Talk to us directly about your request for UV wood printing, our sales team will provide professional for you about which model is most suitable for your request.
NEIXO Digital Inkjet UV Wood Printer
All UV Printing on Wood Applications
UV Wood printing machine can support various wood material printing. Like wood, MDF, Plywood, etc. And for different shapes also. You can custom any full-color image, artwork, picture, Logos, and photos on wood board, plate, sign plate, sign, and name plate.
NEIXO - China UV Wood Printer Manufacturer
We are the leading manufacturer and one of the earliest small size UV wood printer manufacturers in China, we were established in 2007.
With our UV wood printer, we will let you see what you can do and what our advantages are below.
UV Wood Printer Increase Your Business
What Our Small Size UV Flatbed Printer for Wood Can be Used for ?
Below we will introduce our UV Flatbed Printer for Wood to you so you will know about our Wood UV Printer. We have different size printer for Logo, Image, Text printing on Wood. Different price of the printer for your selection
Neixo Small size UV flatbed printer for wood, which could be used to print your own designed logo, text or image on the wood surface directly without any pretreatment. It is easy to operate and maintain, if you would like to know more information for this printer, please feel free to contact us directly.
UV Wood Printer for the Wood Sign
The Most Popular Usage of Small UV Wood Printer
You can create totally customized wood signs, printed full-color photos, image text, and logos, also the artwork, images, and pictures too. 
You can see there will be too many possibilities like printing name on any wooden signs by the UV Wood Printer no matter it is our desktop or industry UV printer. 
Each wood sign will be the unique one, you can be personalized with a low cost by the digital inkjet technology.
Video
of UV Wood Sign Printing
Please see this video we print the wood sign with our mini-size format UV wood printer. In full color and white ink background. 
We keep doing the wood printing sample by ourselves, you can see how our printer work and you will be able to do the same job and get the same result after purchasing our digital direct inkjet UV wood printer.
UV Wood Printer for Wood Plaques
Custom Logos Images and Text for Wood Plaques Printing
Wooden Plaques custom business maybe is the business you are doing now or the planning business you will be going to do. You would like to have a UV wood printer that can print small quantity wood plaques. 
Our small format UV Wood Printer is very suitable for you. It can directly print any image, Logo, test, or picture on the wood plaques in one go. Full-color supported by digital wood printing.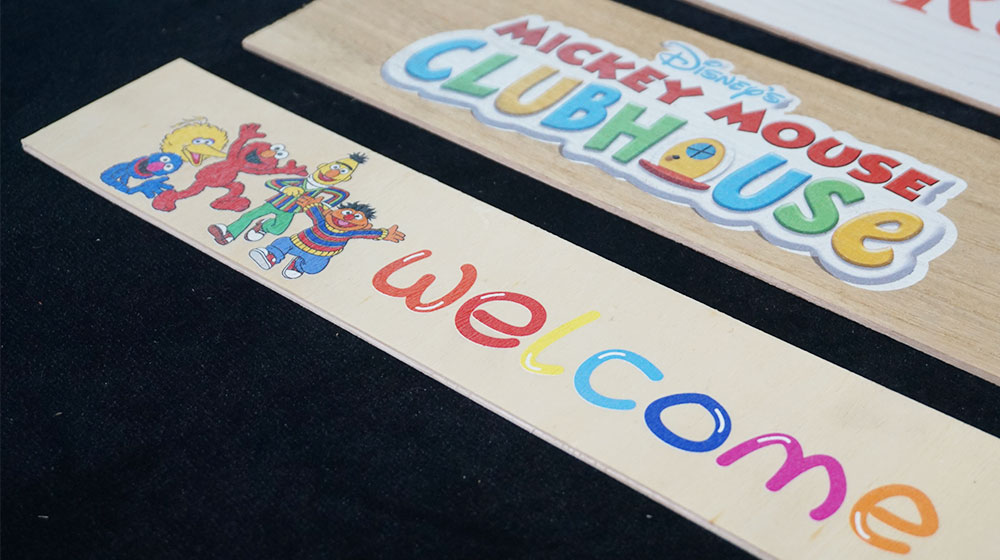 Video
of Wooden Plaques Printing
Any wooden plaques will be supported to be printed directly with our UV wood printer. Like normal rectangle wood plaques, unfinished round wooden plaques, basswood country round plaques, and wooden gift oval plaques.
See in our website that all the video of the wood sign and plaques are printed by our UV wood printers.
UV Wood Printer for Wood Boards
To Increase Your Business Range on Wood Boards Printing
Printing different logos or sign on the small wood board, you could make your own designed wooden key chain for selling on the internet or wooden warning sign for using on different occasion by our UV wood printer.
Printing Numbers, words or special images on the wood brick, you could make them to be a series of wooden toys. Printing a family image or other favor image on different shape of wooden sheet or board, you could make the very nice photo album as a memory or selling them to other customers.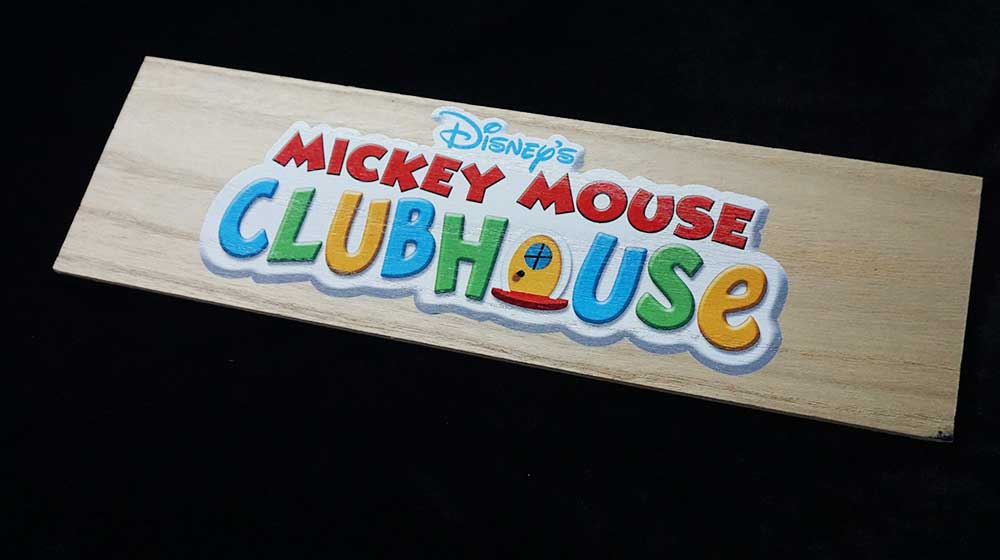 Video
of Wooden Boards Printing
Any wooden plaques will be supported to be printed directly with our UV wood printer. Like normal rectangle wood plaques, unfinished round wooden plaques, basswood country round plaques, and wooden gift oval plaques.
See in our website that all the video of the wood sign and plaques are printed by our UV wood printers.
UV Wood Printer for Wood Gift Box
Custom Any On the Gift Wooden Box Easy
We could also print the special design on the wooden gift box or wine box, and use them for packing gifts. So, the small size UV wood printer is very useful and suitable for us to start some gift and craft business.
Use the Small size UV flatbed printer for wood to do some Personalized printing on wood, Artists, online store owners, gift software providers, and other custom graphics experts can make huge profits by adding messages, company logos, and graphics to various wooden objects
Video
of UV Wood Box Printing
With versus led desktop printer, you can use a convenient method to print directly on custom frames, coasters, baby pads, wooden fixtures, small signs and other items they need, all you need just having our UV wood printer
Here is the video of demo sample for your reference. 
Our UV Wood Printer Advantages
Reasons You Purchase NEIXO UV wood Printer
Surely we understand your request is to print on wood, including wood sign printing, wood plaques printing, wood name plate printing, wood gift box printing, etc. So what our NEIXO UV wood printer can do for your business, and what advantages of our UV wood printers have?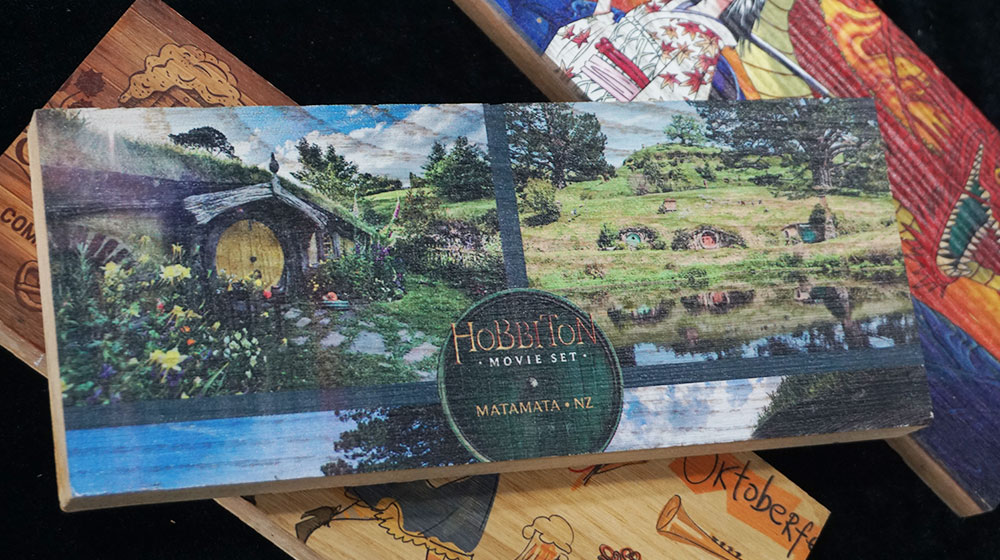 UV Wood Printer for Start up Business
NEIXO UV Wood printer is the best option for small businesses, our desktop version printer with Epson printer body can provide low-cost UV Wood printer for you as the entry-level printer for beginner or home business.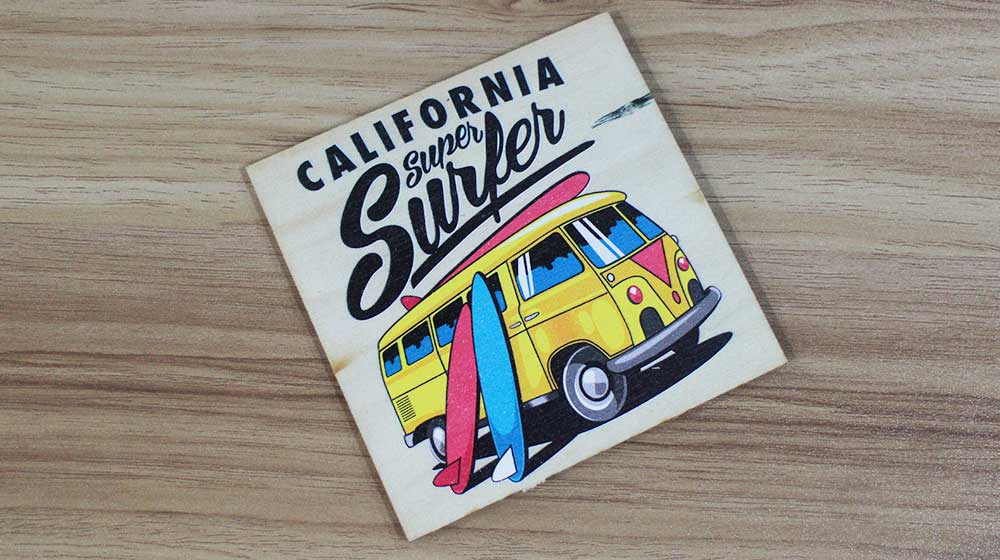 Without Quantity Limited Request
NEIXO UV wood printer can do custom and personal printing request of printing on wood business without any minimum quantity demand. You can accept small quantity order or even for printing single 1 piece especially. To get any quantity order from your customer.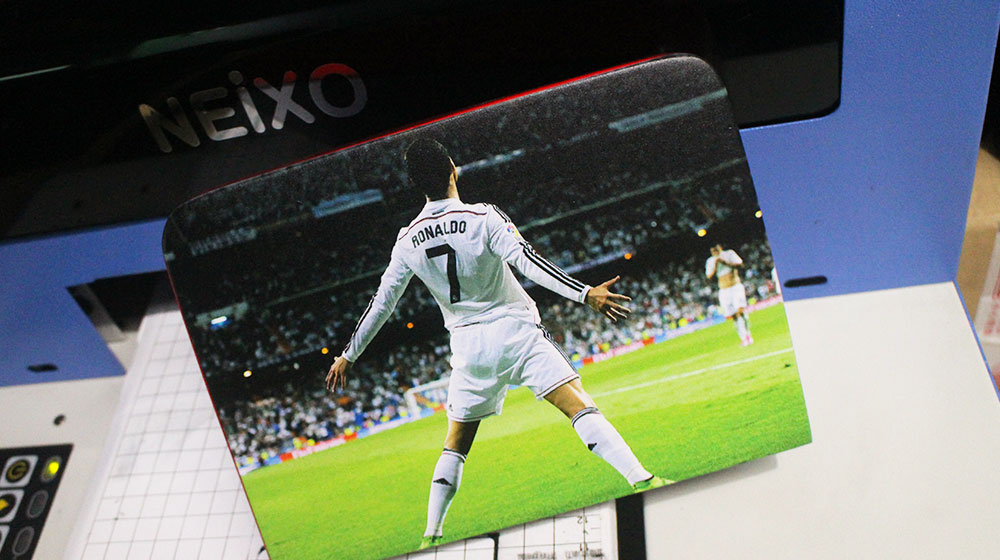 Anti Scratching And Fading
The picture and image on wood board, plate, plaques printed by our UV wood printer will not be faded easy as it is using the UV led ink, it can last for long time even outdoor, and it is hard as it is not easy to be scratched off too. Full color image on the wood surface is very stable.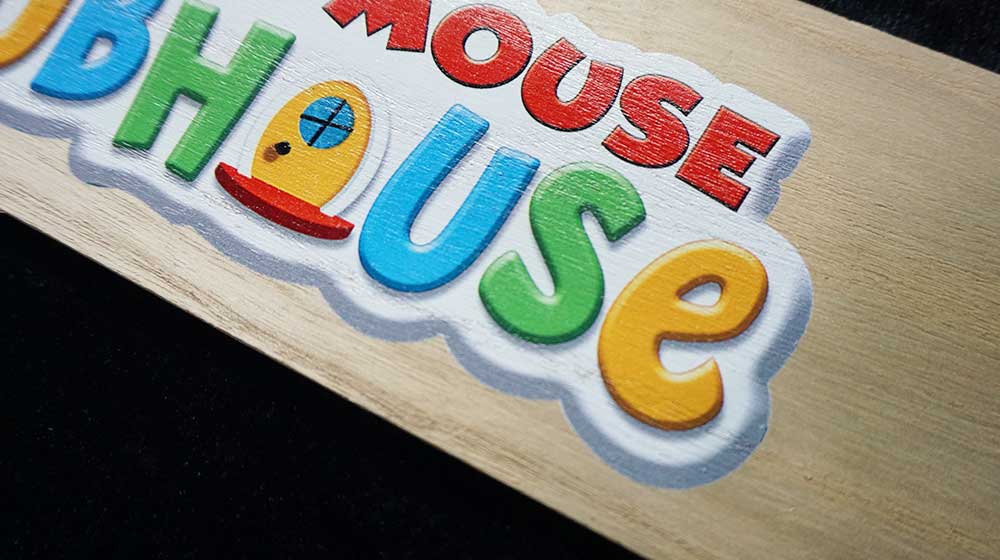 Color and White Wood Decorating
You can put the DIY full-color image or white ink only at one-off printing with our UV wood printer even if it is A4 size UV printer or industry 4060 UV printers, it can save time and never need to make any template for each image, decorating and printing directly at one process.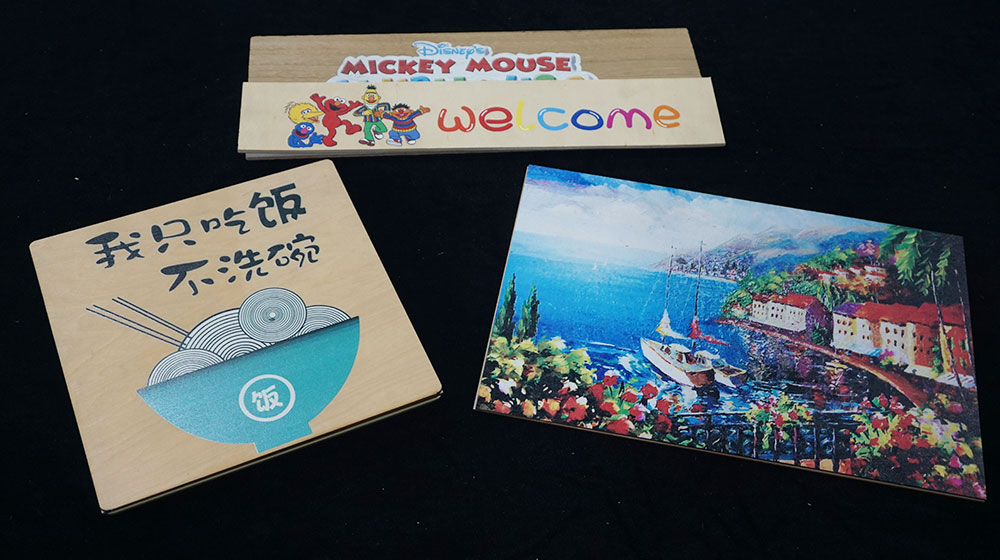 Support Almost All Types of Wood
Different types of wood will be supported by our UV wood printer, with UV LED inkjet printing technology. Like blanked walnut wood, plywood, basswood, even for MDF which is most popular wood material for gift and wood sign printing.
More and more people are willing to use the small size UV wood printer for the wood printing business because it doesn't need complicated operation steps. It is a new digital printing method to replace the screen printing, heat transfer printing, or pad printing method.
There is no restriction on printing quantity and output color when we use the UV wood printer for wood printing. We could print even only 1 piece of image or logo each time without making any template, also we could print different images or Logos in one-pass printing.
This is a very obvious advantage over another printing method when taking the way by UV flatbed printer for wood material printing.
Another advantage of using a UV flatbed printer for wood printing is the prints will be dry at once during the printing process, so we don't need to waste time waiting for the drying as screen printing or heat transfer printing way.
One more advantage when we use the small size UV wood printer for wood is we could print opaque white and very complicated & Vivid colors even on the black/dark solid woods, MDF wood material.
A very special function of the UV wood printer for wood printing is it could produce the 3D embossed effect by printing white ink as a based layer to make the color ink highlighted. This will bring an extra special touch feeling to the printing surface.
Above are some of the finished wood products printed by our small-size UV wood printer. You could see it is printed on different shapes of a wood brick, wood board, and even the MDF wood material. We also have some demo printing videos which show the printing process. So, you could feel how our UV flatbed wood printer working on this wooden material with different logo designs and vivid & color images.
If you are interested and brought our UV Wood Printer, we will have the very detailed instruction to show how to use the printer, and how to print on different products step by step, it is not just for printing on wood products but also for many others products, So the UV flatbed printer for wood could become a Wood printer, phone case printer, Glass printer, metal printing machine, PVC card printing machine, ID card printing machine, Leather printing machine, metal printing machine and so on.
You would see you get a multi-functional UV flatbed printer.
NEIXO UV Wood Printer Technology
NEIXO UV Wood Printer Advantages
Small Custom Desktop UV Printer Features
Auto Head Cleaning System
Avoid Head Clogging in Daily Using
Automatic Head Cleaning System is the NEIXO UV wood printer all comes with an automatic print head system which is the top advantage because this is the most useful function for production.
We have a special IC and control system for the print head cleaning automatically in 6 / 12 hours, we can custom this for your request.
You can turn this function on the control panel easily. 
Auto Height Adjusting System
To Suit the Height of Wood Sheet
We understand you are doing the UV wood photo printing business, and there will have different thicknesses of the wood sign and the plaques sheet.
Our UV wood printer can do the auto height limited to avoid the printer head hitting the wood substance of printing.
Once the wood sheet is higher than the limited bar our printer will auto lower down the tray to suit the wood.
To Let the UV LED in Good Condition
You must know that the temperature is high when the UV Led lamp working, to make our UV LED system in good condition, we add the cooling system to the printer, there mainly water cooling and wind cooling system of our UV Wood Printer
We know the stability is very important for production, so even desktop version printer we will add the stable cooling there as it is the most important for printing on wood.
Touch Screen Control Panel
Upgraded UV Wood Printer Controlling Panel
It will be easy and direct by using the touch screen controlling panel for our UV wood printer for you. To control the tray move forward/back, up/down, and also the one-touch return with height limited button. 
You will be able to turn on/off the auto head cleaning system in the UV wood printer. 
Additional System for Water Cooling
This is the additional cooling system for the water cooling system of our UV wood printer, as the water pipe can bring hot water so we add the radiator to let the water cool down before it flow back to the cooling water tank.
We are the first flatbed printer manufacturer who adds this to our UV series flatbed printer for more stable wood printing production.
Ask For Price Now !
You must want to know more about NEIXO UV printer, Get Contact Now!
NEIXO UV Wood Printer Details
The lifting system is an important system of wood printer to let the item lifting in same position.
Full metal cover of our UV wood printer can provide strong support for delivery
Epson Original Capping Station for auto head cleaning and to keep the nozzle in moisture.
Customer Review UV Wood Printer
We have been sending thousands of UV wood printers to our customers over the world since 2012 when we start our direct foreign trade business. Below you can see some photos of our printer and packages when the UV wood printer arrives at our customer's hands.
Before the UV wood printer sends out, we will have an inspection of the final check to make sure our printer is under normal situation, and we will have the video record and the photos you can ask us for it before sending out the UV wood printers.
More Than UV Wood Printer
More purpose you can get by our UV Printer series
You may already know that our UV wood printer is the UV printer series, which can do a lot of different printing purposes, like a multi-purpose custom UV flatbed printer that can print not only the wood but also the 
Phone cases, Acrylic signs, Metal, Plastic, Golf ball, PU leather, pen, etc.
Our UV Wood Printer actually can do many things more than your imagination, think of more possibilities for you to expand your businesses.
Contact Us Right Now !
Get Any Information You Would Like to Know, We will Answer You Soooonest!
WHY NEIXO UV WOOD PRINTER?
Professional After Sale Support
Factory Engineer Technical Support
After buying our UV wood printer product, you will get not only the printer but more important, the professional after-sales service. The Customer Service team is very important for the kind of machine you must concern about. 
NEIXO provides the best service for after-sales of our small UV series flatbed printer including step-by-step tutorials and videos in every detail. And you will get a professional technical team for support.
Our UV Wood Printer will surely help you to increase your wood custom photo and picture for planked plywood, MDF, plaques, sign, gift box printing business.
Packing of NEIXO UV Wood Printer
Delivery Lead Time and Packing Process
International Crate for Delivery
| | |
| --- | --- |
| Package Type: | International Wooden Crate |
| Dimension: | Depends on Model |
| Net Weight: | 38KG-70KG (Depends on Model) |
| Gross Weight: | 40KG-90KG (Depends on Model) |
1. Delivery and Lead Time UV Wood Printer
Usually, your printer will be sent out within 3 working days after confirmation.
And mostly we can arrange delivery within 1 working as we have the production line working or printer production always as the original small size UV printer manufacturer.
We normally send out the V wood printer by DHL/FedEx/TNT for you, and even by sea freight according to your request, like a warehouse in China city, we will process accordingly.
2. Testing of UV Wood Printer before sending out.
As the leading manufacturer of small size UV flatbed printers and UV wood printers, we have experience in production and we have a series of inspections during the whole production line. 
We will have a video and photo record of the final testing before your UV wood printer with our Order Label sent out.
Reliable UV Wood Priner Manufacturer
Own Engineer Team and Workshop
A professional production team will be n our workshop and we have experienced production managing team for each production steps, also the machines for whole production f the UV wood printer. 
1. UV Wood Printer Workshop
Below you will find how your UV flatbed printer is produced and our workers and staff for your reference as the manufacturer. Workshop and warehouse, material house and workers, a production line with a customer visiting the office, etc. We welcome your coming to our factory directly to see the UV wood printer.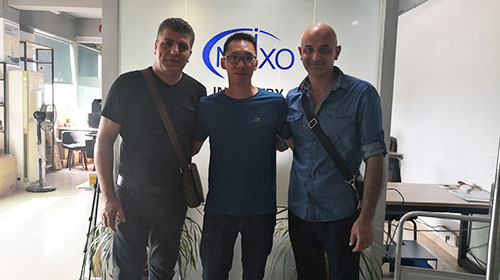 Customer in Visiting to Neixo Factory
Delivery Of Wood Printer Seriously
Inspection of All Printers
NEIXO Factory Worker Team
2. Famous Wood UV Printing Machine Trade Show
You can see our UV wood printer in some trade shows and the exhibition always, we can let you see some of the photos of how our printer gets good feedback from many customers everywhere.
Contact us directly to get your UV wood printer information if you would like to see our printer online.
Contact for UV Wood Printer Now!
No matter what questions you would like to know about the UV wood printer, just feel free to contact us, we will get back to you within 12 hours normally with the best solution for your as per your request.