What Advantages of UV Compare to Eco Solvent Printing
The UV printing technology has been more and more populare compare to the Eco solvent ink priting technology! But do you know what advantages the UV printing technology has? In below artical we have 3 point to show you the difference so you can know more about it!
UV Ink printing has a perfect drying time compared to solvent ink printing. You can get the printed item directly without waiting as the UV ink is dried immediately after printing. And for the Eco solvent ink printing, the ink will be still wet after the print is finished, we will need to wait for a few minutes or heat up the items to let the ink dry
In 2017, a Small UV Printer came out to market, you can use a UV printer to do most of the customized printing jobs at a low cost and easy way.
This is the first advantage that we can consider since a small Desktop UV printer can do a lot of printing jobs in a tiny place, like a phone store, a phone case printer customized printing is prevalent, but people who purchase customized cases would want to get the phone case immediately after is complete, the fast drying time will be first we have to consider. 
Think that, if using Eco solvent ink printing machien, how long we can get the phone case after it is printed?
2. No Coating Pre-treatment Requested
One very important, or said the most important advantage of UV printing is that, for most material, the UV printer do not need any coating and pretreatment needed, the UV-cured ink can be directly printed and stuck on the surface of the material, like plastic, like most of the wood. The eco-solvent ink printing can only be printed on a kind of coating liquid, so we have to make coating liquid on the item surface before printing, it is a very troublesome thing in a small printing business.
But now you can use UV printing machines directly to make custom and personalized images on almost any material. Below are what we printed with our UV flatbed printer.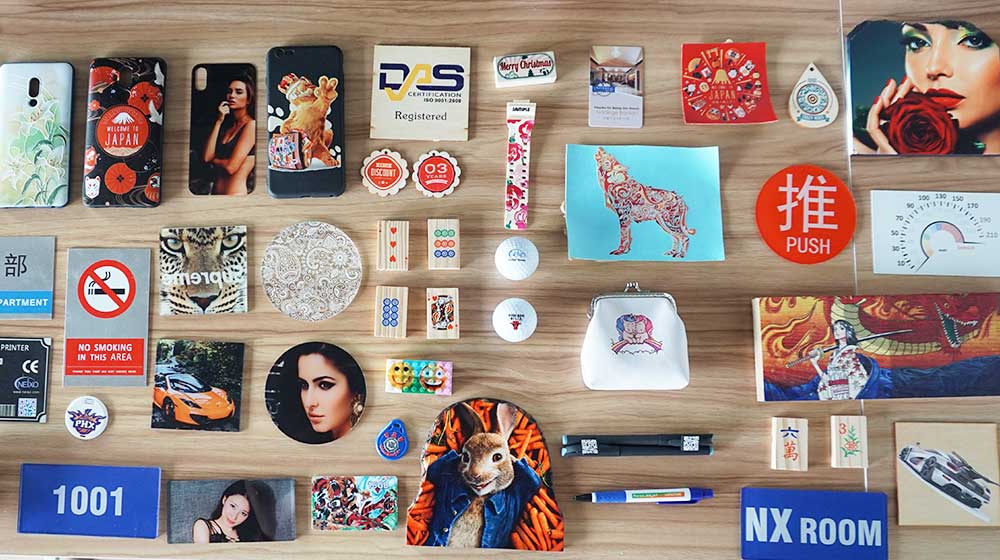 The UV ink does not need coating and does not have solvent after printing, the ink is dried and cured so it is good for health. Our UV ink gets the Rosh and has an MSDS certificate for proving the good quality ink we used for our small-size format UV printer, desktop, and Industrial version.  
On the market, there are a lot of brands of UV flatbed printer selling. But mostly we recommend you choose according to your request. Firstly, what business you would like to do? If you are doing a very small-size custom printing business, our NEIXO brand UV series printer will be good for you! 
Welcome to contact us for detail if you would like to know which UV printer will be the one suit to your request!
Now the UV printing techonloty is going to be choice for more and more people, compare the solvent ink printing, the UV printing has a lot of advantages!
More Knowledge and Tutorials