A4 UV Printer
Best Desktop Small Size Flatbed Printing Machine
NEIXO is the A4 UV Printer Original Manufacturer, with 15+ Years of Production experience in UV Printing Machines, more than 3000+ Square Meter factory, and 30+ workers.
A4 UV Printer is the most cost-effective model for printing multi-purpose like phone case printing, wood, plastic, metal, leather, acrylic, etc.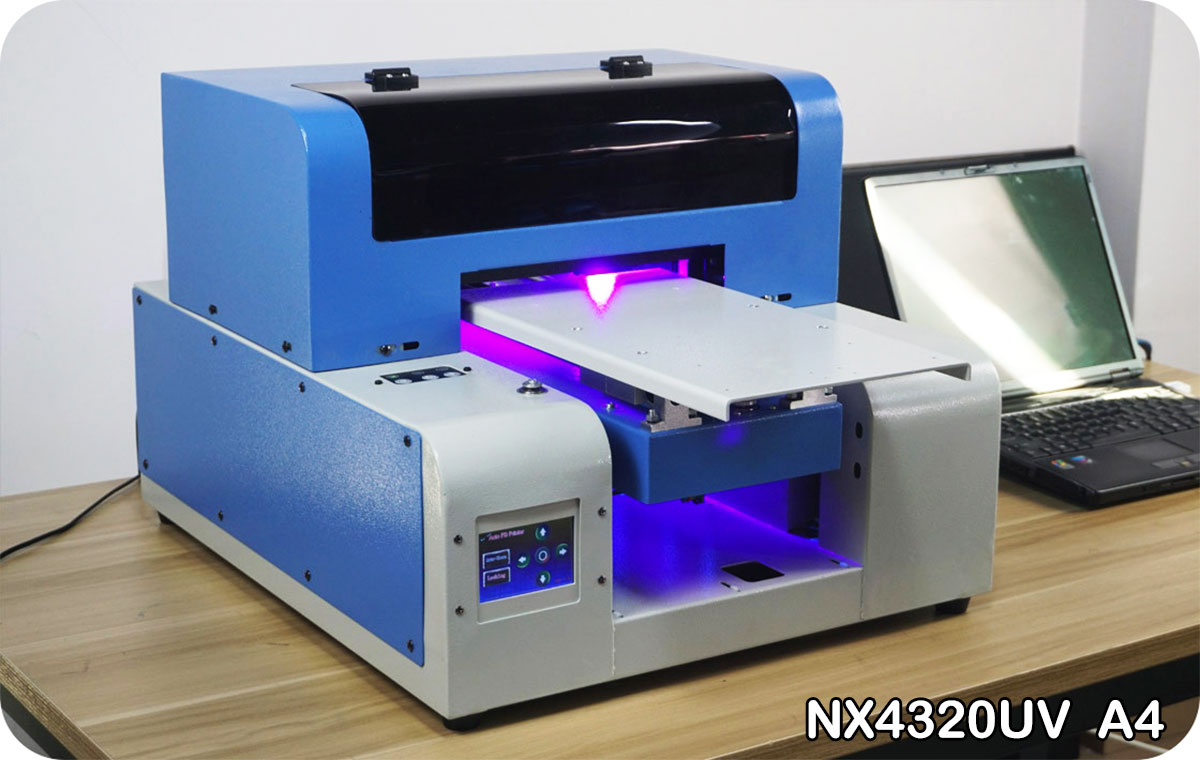 NEIXO A4 UV Printer is the best A4 UV Printer for you as it is a cheap price UV printer and small size that can complete almost all kinds of UV printing job. 
You can see the below introduction that our A4 UV Printer includes white ink support printing and the cooling system, print head auto cleaning function too.
Small Desktop UV Printing Machine
If you have any Inquiries please feel free to ask! Please do not hesitate to contact us with the country to calculate the shipping costs.
NEIXO A4 UV Printer
VIDEO
This is the video that we make for you to see directly how our A4 UV Printer works. You will see on our website, all the photos and the video are made by ourselves. Just to let you know that we are the real manufacturer. 
What you can see in our video is the same you will get after you purchase.
NEIXO A4 UV Printer Effect
All Feature You Can Get by Our A4 UV Printer
All effects you can see below are made by our desktop A4 UV printer, this is to show what you exactly can do when you have our printer in your place. Detail printing video will be provided in the below instructions. Please see all of the pages to know about our A4 UV printer in detail.
Full Color & Hollow Out
Print full color directly at one print process, we can use the A4 UV Printer to print any image with all colors same as the image /artwork /design, etc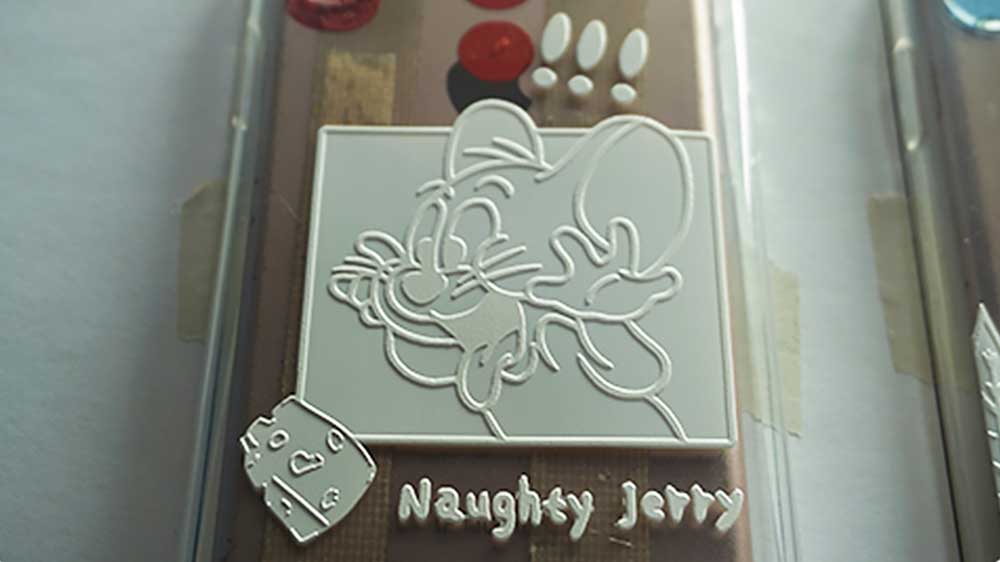 White & Emobossed Effect
You can use our A4 UV Printer to print white background and Embossed effect is what our all UV series printer can do, you can make white color thick.
NEIXO A4 UV Printer Samples
Almost All Purpose More Than What We Showed
We are an original manufacturer of our A4 UV Printer. We insist on showing real things to you so all the sample below are printed by our UV printer series. What we showed in the video is what you will be able to do. You can please feel free to contact us to tell us what you would like to print on by our UV printer, we will provide the solution.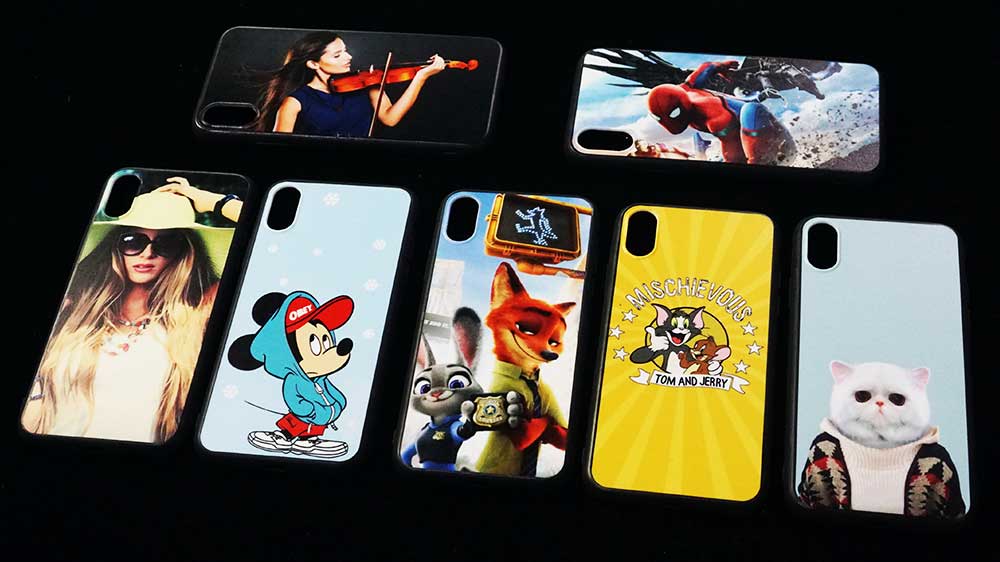 A4 UV Printer Phone Case Printing
The most popular request of our A4 UV Printer is the phone case printing business as NEIXO small UV printer can do customized cases easily.
See Video: Phone Case Printer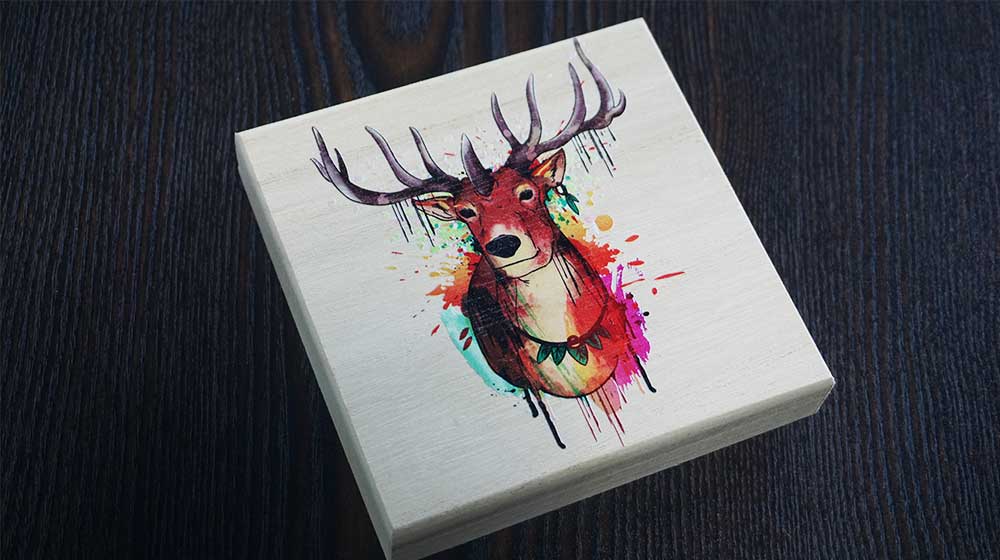 A4 Wood Picture UV Printer

Small Wood picture printing will be required by many different customized business, NEIXO Desktop A4 UV Printer is a best choice of it.
See Video: Wood Printer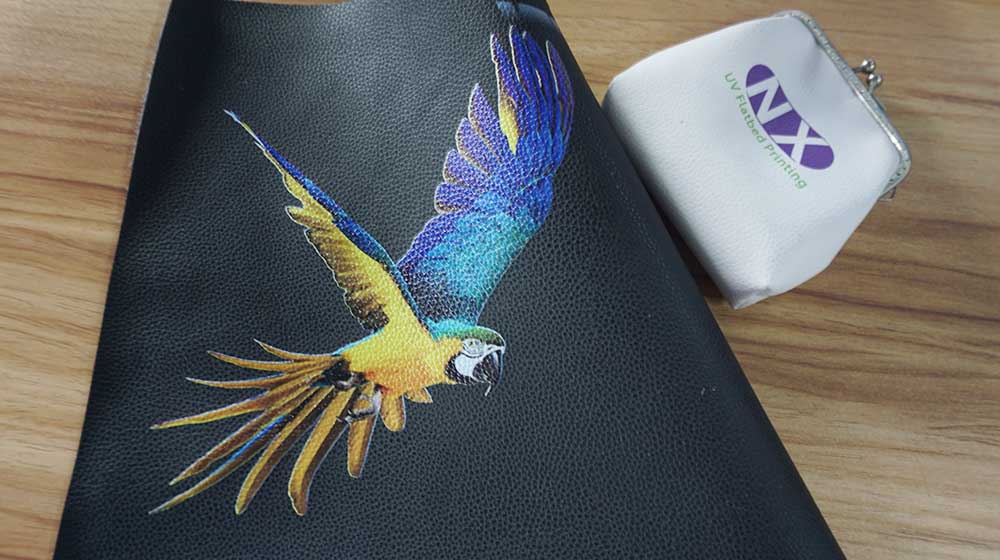 Small A4 Leather PU UV Printer
For small size PU and leather printing demand, NEIXO A4 UV Printer can be the top option when you need for small size printing.
See Video: PU Leather Printer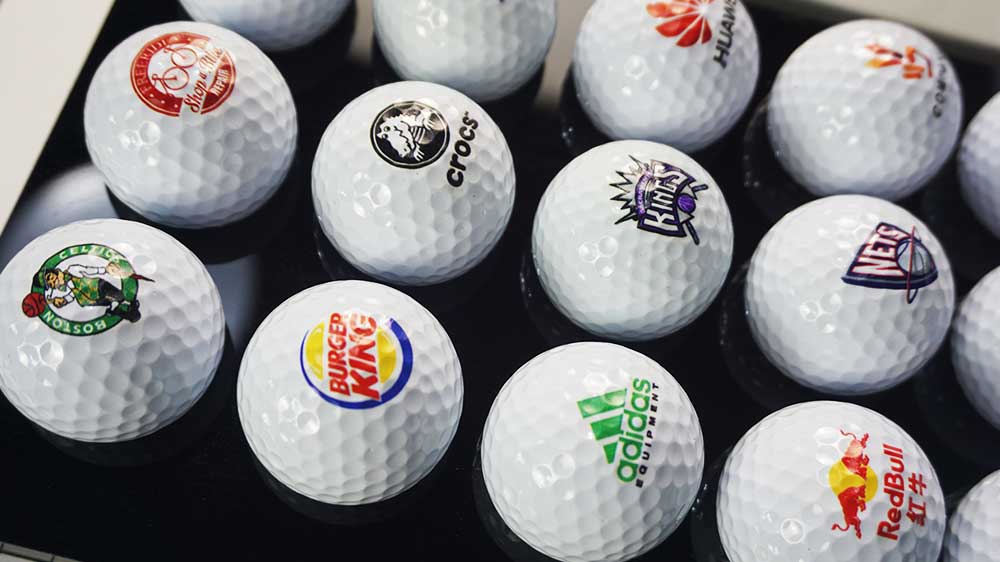 Customized Golf Ball Printing Business is the wonderful function by NEIXO A4 UV Printer. Can start print even 1 pieces of Golf Ball.
See Video : Golf Ball Printer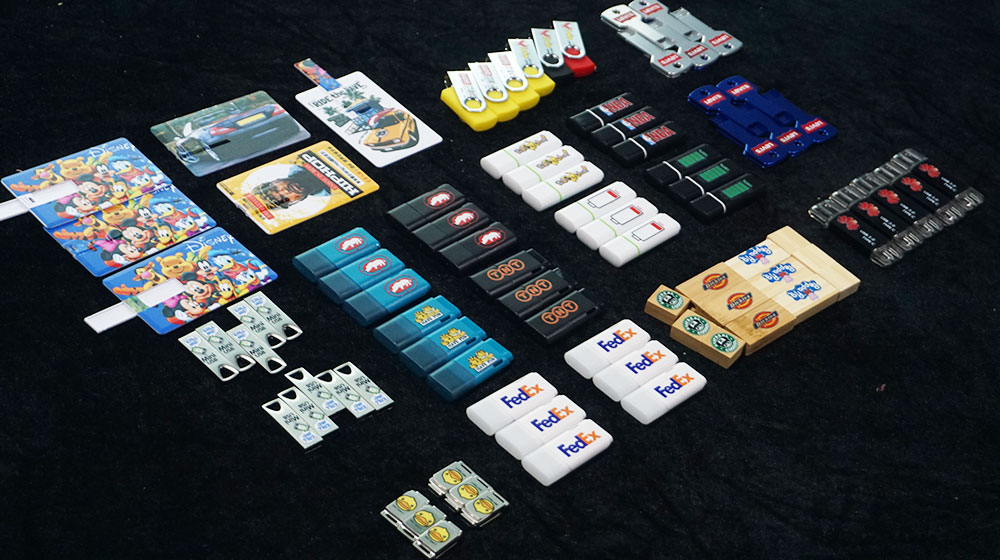 USB Flash Card A4 UV Printer
USB Flash Pen Drive customize Logo, company detail, catalog etc. You can easily do it by A4 UV Printer even 1 piece.
See Video: USB Flash Card Printer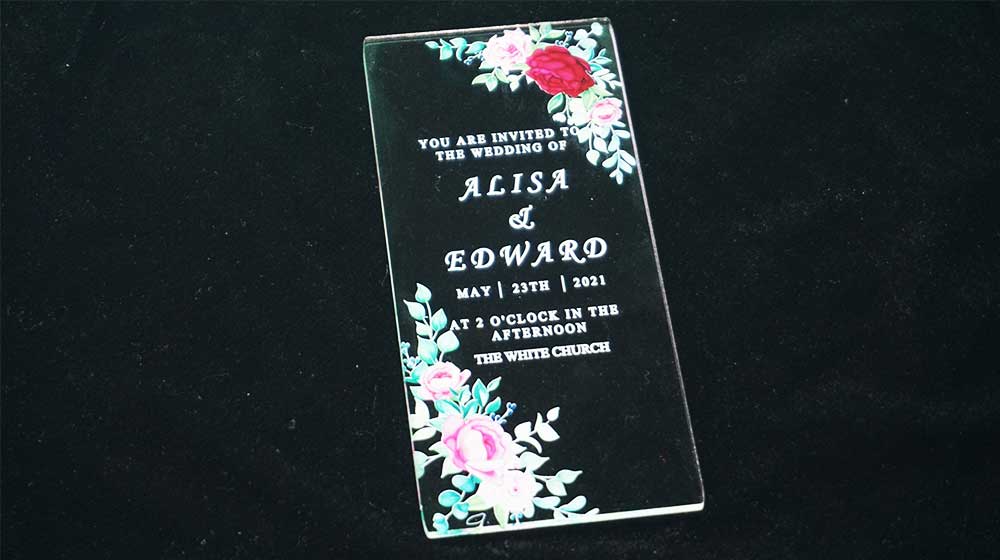 Acrylic Invitation A4 UV Printer
For wedding invitation sheet priting, it will need customized every time, our A4 UV Printer is the best solution as we can print any text any quantity. 
See Video: Acrylic Invitation Printer
NEIXO - Your Reliable A4 UV Printer Supplier in China
Our A4 UV Printer can do more than what you can imagine. Not only what we mentioned above, but also what you will need to do with your business. 
Here we advise the NEIXO A4 UV Printer function and advantage for your reference. 
NEIXO A4 UV Printer Specification
Data of our A4 UV Printer
| | |
| --- | --- |
| Print Head: | Epson Print Head L805 |
| Print Size: | 180*320mm |
| Print Height: | 0-75mm |
| Ink Supply System: | Damper CISS |
| System Require: | WIN7 / WIN10 |
| Height Adjustment: | Electronic automatically |
| Working Environment: | 25-30C, 50%, Dust free |
| | |
| --- | --- |
| Type: | Desktop A4 UV Printer |
| Color Channel: | CMYK+2W |
| Support Print Process: | White Ink Decrease |
| Support Ink: | UV Led Ink |
| Interface: | USB Cable |
| Print Software: | RIP software |
| Power: | AC 110/220V, 50Hz/60Hz |
CMYK+W+V Ink All Printing Effect
Yes you are right, our NEIXO A4 UV Printer can support varnish printing, it means our printer can make the very clear varnish ink on the surface of the image, you can make full image with varnish cover or only spot varnish on a part of the iamge.
NEIXO A4 UV Printer provides varnish not only for full varnish covering but also the spot varnish printing. We have whole tutorials about how to make images, and how to prepare the varnish printing effect.
It will be very easy following our tutorials, by a cheap and low cost small size UV flatbed printer you can get the varnish pritning.
Varnish Printing Effect
VIDEO
You will see how we do all the printing processes, all the printing effects, like white ink, color ink, and the varnish printing by our A4 UV printer.
You will be able to do the same job after purchasing our printer, we will provide support of is.
NEIXO A4 UV Printer Innovational System
Advantages to Avoid Head Clogging Issue
White ink supported is the most important thing to an A3 UV Printer, compare to the Eco-solvent ink printing technology, UV ink printing technology can print white ink on almost any kind of material surface and color surface. But white ink is easy to clog the print head, how NEIXO provide the solution in our A3 UV Printer for you?
Auto Head Cleaning System
NEIXO A4 UV Printer has a function that you normally can see on High-Grade UV flatbed printer – Auto Head Cleaning System.
One issue you may always worry about is the Print Head Clogging Problem when you choose a UV flatbed printer, we install the auto head cleaning system into our small size desktop series UV flatbed printer for you.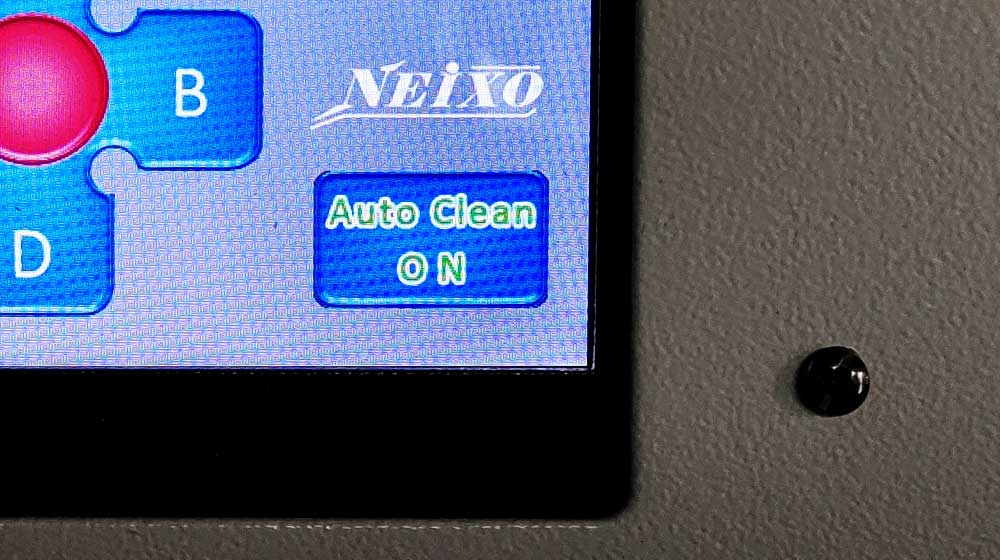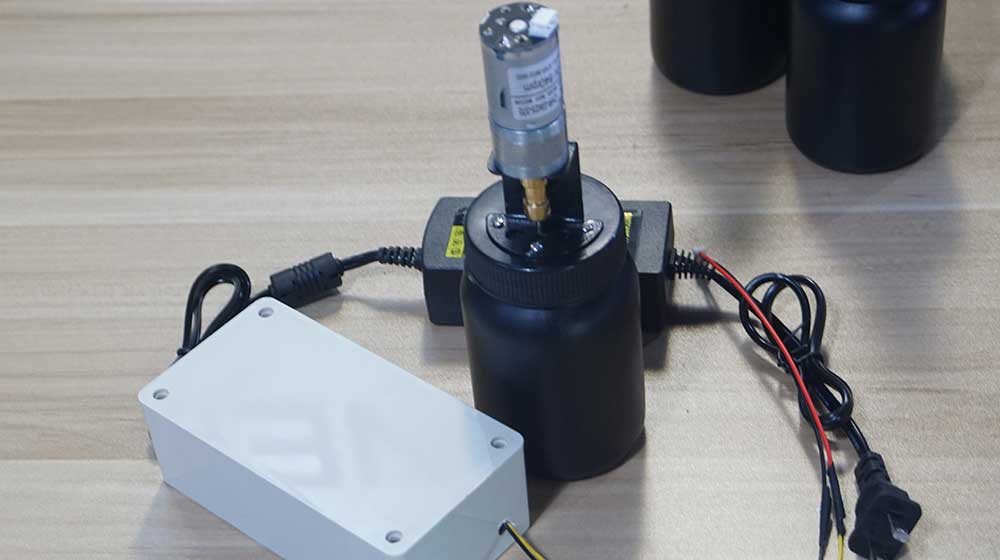 Auto White Ink Mixing System
You may know that the white ink will have sediment during use, NEIXO makes the white ink mixing system to the white ink bottle to let the white ink string always. 
It will have set on a regular time to do the string process, like 6 houses, 12 houses,  24 houses, etc. So you will not worry about the ink settle down the issue by using NEIXO A4 UV flatbed printer.
(Optional Accessories not default completed)
We are the first UV flatbed printer manufacturer who put the newest technology on the Desktop UV Printer as we know you as the customer you will not want to face any issue during production, thus we do everything to make any possible to reduce this issue happened during production. Some of our customers have been using our printer for more than 5 years.
15+ years of Mini UV flatbed printer manufacturing, NEIXO design the flatbed printer structure by our own engineer team, after getting feedback from customers we improve our Desktop UV Printer always, to keep the printer always in the latest version.
Contact Us Right Now !
Never Hesitate to Contact Us About the A4 UV PRINTER that you are going to purchase!
Touch Screen Control Panel
Four direction operation and the auto height control button on the panel, also the Auto-Head Cleaning System ON/OFF showing doing on the panel very clearly.
Easy to control and operation what you would like to do.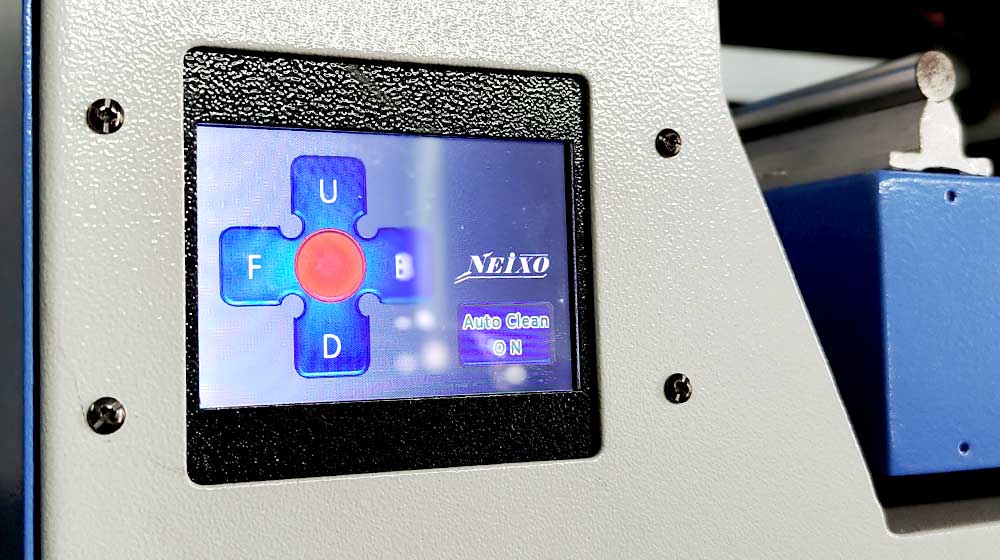 NEIXO A4 UV Printer Cooling System
For Long Time Stable Running Process
What is the most important part of the UV printing machine, the Cooling System will be the one. You will see the Best UV Printer will have the water cooling system as it is the best cooling system to UV Led light. NEIXO Desktop A4 UV Printer of course have a water cooling system, also we have other cooling systems for you.
Circulation Water Cooling
NEIXO A4 UV Printer completed with water circulation cooling system which can make sure the UV Led can run in a normal situation always. 
As the UV LED working temperature is very high during production, we have to make a suitable cooling system so it will not down after production starts.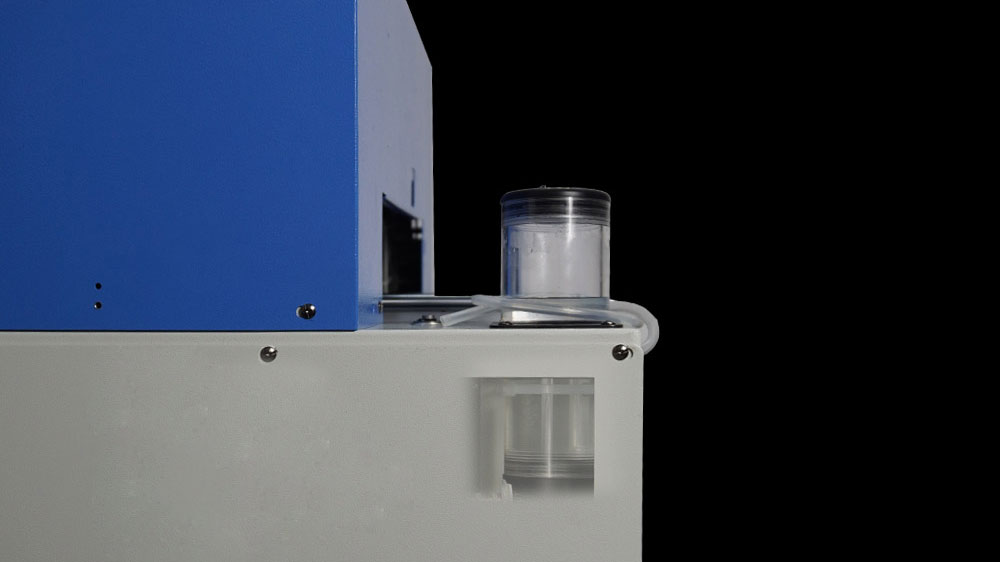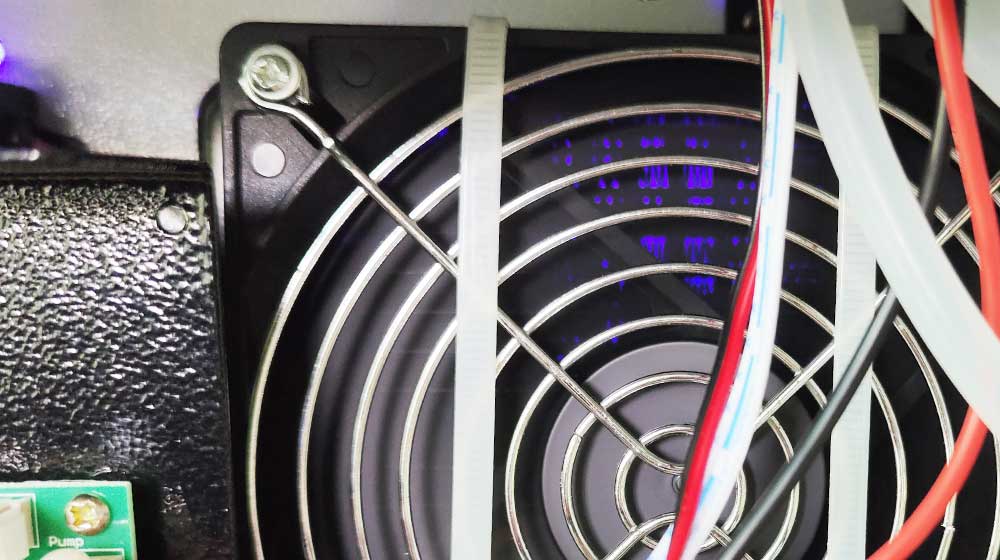 Not only the water circulation cooling tank, in our cooling system we have the Radiator Cooling System to support the A4 UV Printer cooling.
It can make the water-cooled faster so to keep the water at a low temperature, the UV LED will be able to work in such good condition.
We know this will be adding much more cost to the production but I know you would like to have it for more stable production.
We have a cooling fan in the A4 UV Printer, we are the original manufacturer we know the IC will be heating up during working, and PCB will be the target we have to make sure the temperature is good, so we put cooling fans in the printer body.
These cooling parts will be used to let the motherboard and other PCB cool down, and let the whole A4 UV Desktop Printer in a good working condition.
We know what you need so we add the cooling systems into our printer, NEIXO is the first manufacturer who use the 3 cooling method.
Contact Us Right Now !
Get Any Information You Would Like to Know, We will Answer You Soooonest!
Even this is a kind of small desktop UV flatbed printer at about $1000, we also add the auto infrared height adjusting function on NEIXO A4 UV Printer.
When the item is higher than the limit bar, it will auto low down to a suitable height, to avoid print head hitting and for better print quality. 
NEIXO A4 UV Printer Details
Customer Review Of NEIXO A4 UV Printer
NEIXO have been selling thousands of UV printer to countries over the world for over 10 years, we get a lot of good feedback from our customers. Below are all our real customer review feedback photos of our A4 UV Printers or A3 UV Printers.
We have a serial number of the order on the printer, and we will take video when we do the packing and inspection for all customers, like A4 UV Printer UK, Australia, Germany, etc.
Contact Us Right Now !
Get Any Information You Would Like to Know, We will Answer You Soooonest!
Manufacturer Service and Support
Engineer Technical Support
Service is one of the MOST important part when you are going to purchase an A4 UV printer. Who can provide the best service for you, the Original Manufacturer will be! Since you know that manufacturer is the supplier who produces the printer, with own engineer team. 
We provide Step-by-Step Tutorials Videos for you to know how easily our printer can be installed, and the operation, software settings. 
Many of our customers have been using our printer for more than 2-5 years, you will not need to worry that you can not get the support of your A4 UV Printer after 1 year, we always are there for you. As we are the manufacturer in the market for 15+ years. (Some supplier is only the agent who only sells the printer, and they do not support it, service is very important!)
Packing of NEIXO A4 UV Printer
For Best Protection of Your Printer
International Crate of A4 UV Printer
| | |
| --- | --- |
| Package Type: | International Wooden Crate |
| Dimension: | 64.5x58x47CM |
| Net Weight: | 30KG  |
| Gross Weight: | 38KG |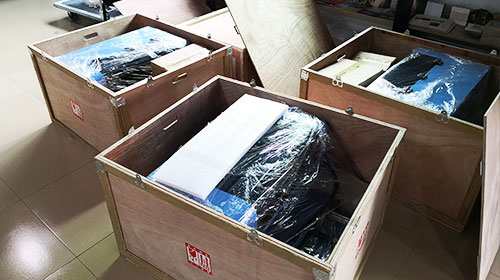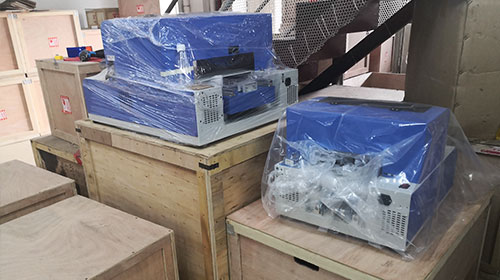 1. Delivery of the A4 UV Printer
NEIXO as the original manufacturer has sufficient stock, we can send out the A4 UV Printer in 1-3 days. 
With our years of experience in packing flatbed printers, we will put our UV printer in the international wooden crate with a buffer inside for delivery. By DHL/FedEx/TNT according to your request. 
2. Testing Before A4 UV Printer Send Out
For every set of A4 UV Printer before sending out, we will do the final inspection for you, this is very important step to make sure the printer is running in normal situation. This is a responsible supplier will do.
To each printer we will have the order number on and we will have record video so we can see the record, you can also ask us for the recording video before sending out printer.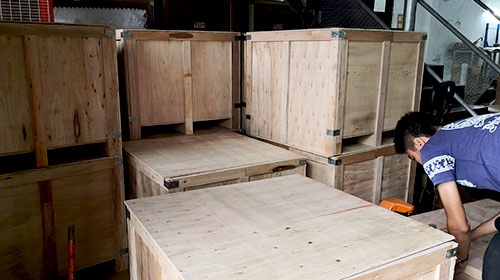 Your Reliable A4 UV Printer Manufacturer
Own Engineer Team and Workshop
NEIXO has the engineering team, and production team, technical team for service too. Only a real factory can show you the real production line and workshop. Below you can see our UV printer production workers and workshop. For more than 15 yers experience, we are confident that we can provide you with the best A4 UV flatbed printing machine.
1. A4 UV Printing Machine Manufacturer
Who dare to show you the photos of the production line is the real factory, we welcome all customers to come and visit our factory, and we can provide the A4 UV Printer OEM and ODM service for the wholesale customers, we can put Logo and change design for you.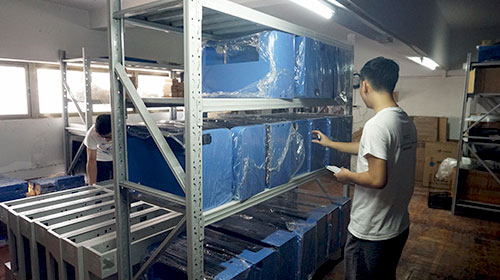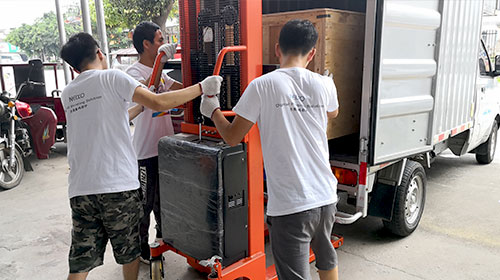 Customer in Visiting to Neixo Factory
2. Famous A4 Printer Trade Show
We have been showing our Printers in UV printing machine trade show and some exhibition for showing our printer to customers. A large number of customers directly place orders after seeing our A4 UV flatbed printer in person as they all feel amazing of our printer and technology.
A4 UV printer can do a lot of printing purposes, acrylic, wood, metal, etc. Price is very low for the small DIY UV printer, Contact us right now to start. 
NEIXO A4 UV Printer is based on a Flatbed digital printer, and for desktop version A4 VU Printer we produce the printer with modifications from desktop Epson printer to be flatbed printer. For years of experience, we produce an A4 models from M3500, R230, L800, to now L805, so we know well about the Desktop UV printer structure and production.
As a leading manufacturer in the A4 UV Printer industry, We start from a small workshop to be a 3000+ square meter factory. With 30+ workers and we are growing fast now. We are concerned about the printer design, quality, operation, just to provide the best A4 UV printer to you.
A4 UV Printer: The Definitive FAQ Guide
This Guide will answer any of your question about the A4 UV Printer.
Before buying A4 UV printer, please read this guide.
Let's Go.
1. What is A4 UV Printer?
What the A4 UV Printer is? It is a UV printer but with the A4 printing size, usually, A4 means it is a small size UV printer and also the Desktop UV Printer. It is using UV technology for printing, and small size printer. The large Desktop printer will be normally A3 and A2 size. 
2. If A4 UV Printer is good for Start-up Businesses
It is the best printer for small businesses, A4 UV Printer is a cheap UV printer as the price is very low, but the function is very good, and can do almost all kinds of printing business. Low price means the risk for a start-up business is low and full function can support all business types. So if you are going to make a small business of printing, our A4 UV Printer is the best option.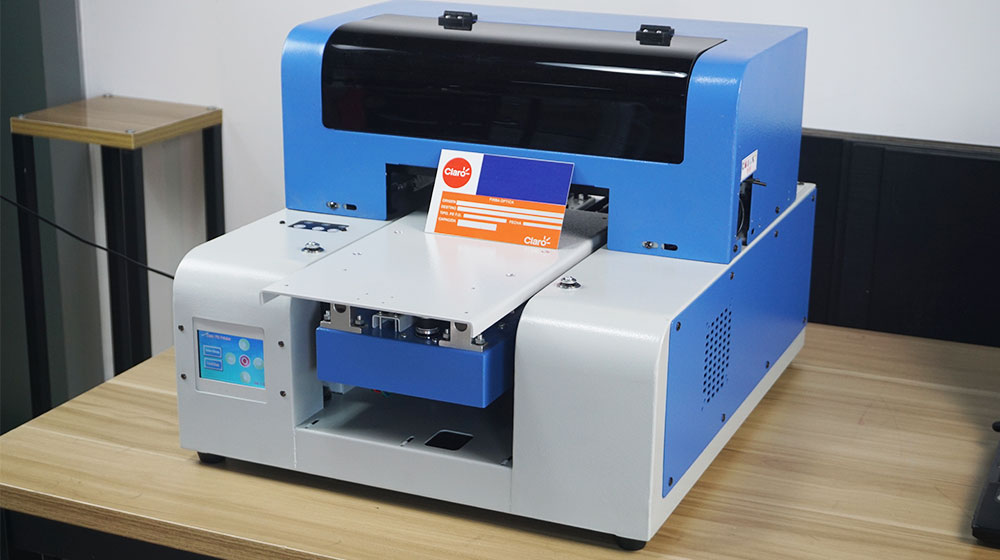 3. If the A4 UV Printer does almost all-purpose?
It will be almost all-purpose printing, the multi-purpose flatbed printer is the UV printer, you can do printing on phone cases, wood signs, acrylic, steel, metal sign, glass, leather, almost all flat items you can do the printing on it, by our A4 UV printer. To do the customized printing for photos, wood pictures, images, and designs, whatever you want to complete.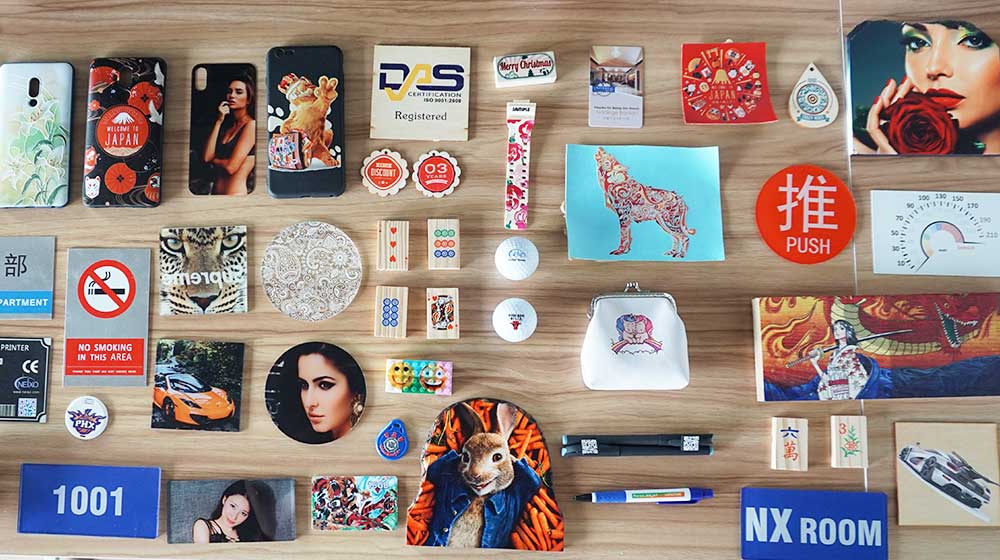 4. What material A4 UV Printer can print on?
Almost all kinds of materials you can use the A4 UV printer to print on, like plastic, glass, acrylic, wood, metal, aluminum, MDF, ABS, paper card, PET film, PU, leather, etc. Most of them you can print directly and some of them will need a kind of coating on it before printing. 
5. If Various Surfaces and Effects were done by  A4 UV Printer?
What you can do on our flatbed printer is like designs, photos, pictures, artworks, Logos, and loved cartoons, also it can process the Embossed effect.
6. Can I print Golf Ball with the A4 UV Printer?
Of course, you can do printing on Golf Ball as the Golf Ball Printer, we have video detail on the golf ball digital UV printing process on our website, click here
7. Where Can I Buy the A4 UV Printer?
Now buying an A4 UV printer is very easy as the shipping is very convenient, we are in China and we can send out the A4 UV printer to most of the country over the world, so you can easy to buy the printer from us, contact us now.
8. What Business the A4 UV Printer is Suitable for?
For small quantity ordering requests and for custom printing business, you can use the A4 UV printer to complete the jobs, it is very suitable for the small and start-up business even the home business, for some hobby printing too.
9. What is the Technology of the A4 UV Printer Using?
It is the UV LED inkjet technology of the A4 UV printer based on, the UV led light that can cure the UV ink after it is jetted on the surface by the print head, so the ink will stick on the surface and is dry directly.
Contact Directly for A4 UV Printer!
You may have a lot of questions about our A4 UV Printer, just feel free to contact us, our professional sales team will answer any questions to clear your doubt.