Coaster Printer Machine for Small Custom Beverage Coaster Business for You
You must need a Coaster Printer now, which is a printing machine that can do any personalization and custom coaster on any content printing, like most requests for the company Logo, brand information, graphics, photo, picture, design, artwork, etc. 
Custom Drink Coasters are a very fantastic and popular request in the market for promoting the brands. Custom coasters are usually used in hotels, coffee shops, weddings, birthday parties, festivals, etc., so there will need to be many custom designs on it. Usually, the printing quantity will be not very stable, like an order for a birthday party will need a very small quantity of coaster printing requests. 
In this case, the custom coaster printing solution is an important part of it. And the UV Coaster Printer is the best choice and solution for them.
Coaster Printer Printing Video Demo
Really easy to make a unique, custom coaster printed by the coaster printer. It is the machien that use UV technology to print the design on the coaster in just a few minutes, it can also make mass production printing jobs, also support the jig to change very easily. Below demo for you, let us watch the video to see how our coaster printer works on drink coaster printing. 
The Print Process of the Coaster Printer Machine
With the above demo video, you can directly see how the coaster printer works. In total, you see the conclusion below steps for your reference, there will only need 5 steps you can get the mass production custom drink coaster for your business like promotion item, gift, home decorate, brand logo etc. 
Step 1, we prepare the design and image in the PC, if we have a jig we will make the image to the jig template accordingly
Step 2, we can print the jig template image on a tray or directly put the jig on the tray accordingly
Step 3, put the coasters which we are going to print on by the coaster printer.
Step 4, we start to print in the PC software of the printer, and the coaster printing will be processed.
Step 5, get the printed coaster after the coaster printer completes the print process directly.  

Coaster Printer is The Best Solution of Coaster Printing Business
I am sure that you are looking for the Coaster Printer which is going to start a business of custom drink coaster printing. No matter for small businesses or large quantity mass production businesses. Our Coaster printing machine will be the best solution for your business. So why coaster printer is the best solution? What are the advantages of a coaster printer?
It can print on various materials made of coasters, like plastic, wood, cork, leather, etc. Below we will have more details about it. 
The coaster printer supports any size and thickness coaster. Normally coaster is about dia. 9cm or 10 cm in square or circle shape in 2-8m thickness.
For custom any quantity order. Since the UV coaster printer is based on digital UV inkjet printing technology, you can accept any quantity printing
Easy operating, there are very detailed tutorials we can provide to the coaster printer telling how to set location and make an image for the coaster then print directly
We have different series UV coaster printers for different prices, small and medium sizes for your selection. Or direct contact our sales team for getting professional advice.
Coaster Printer Applications
What coaster materials does coaster printer machine print on? Firstly we need to know what material will be used to make the drink, beer, and coffee coaster. There are many options you can use, cork, wood, paper, leather, and more. To use the coaster printer we can print the custom design image or any text on almost all the material of coasters in an easy and fast way. 
Let us see the below samples printed by our coaster printer for your reference.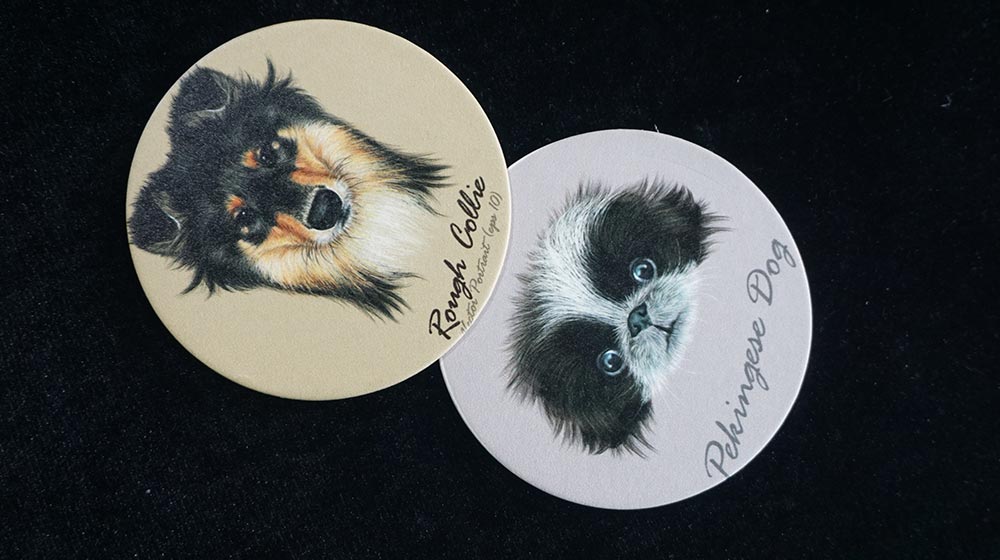 Paper Pulpboard Coasters Printing
It is the most popular material for promotional coasters for parties, hotels, coffee shops, and beer bars. Coaster printers can do the best printing quality on paper coasters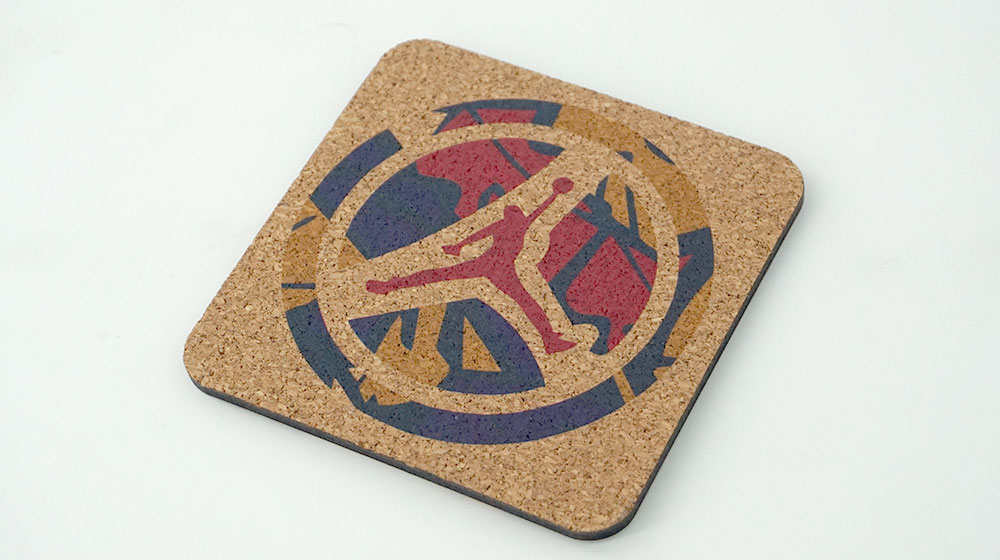 Another popular material for coaster use is the coaster printer can also make any image or design on the surface of the wooden coasters very easy and faster.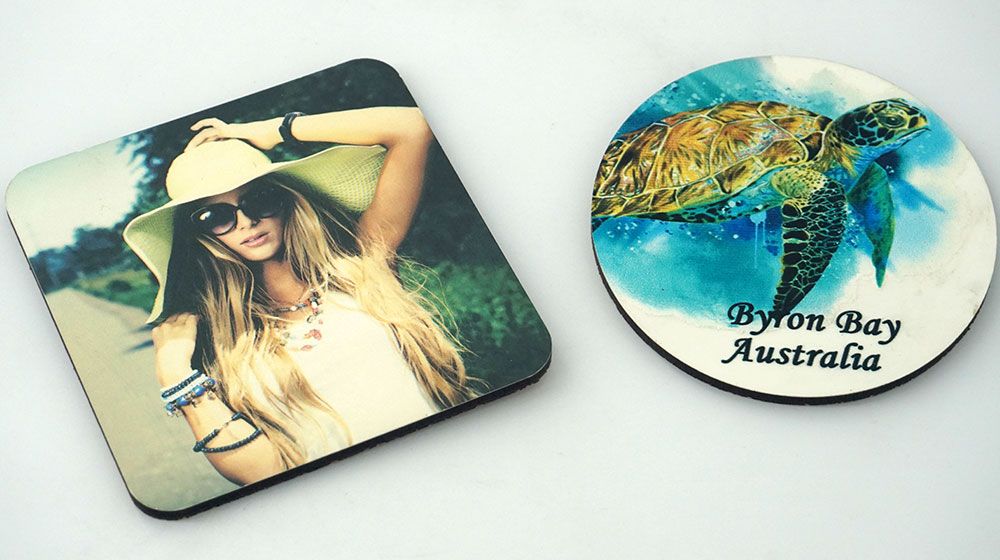 Compared to the sublimation processing method, the coaster printer can directly make images on MDF surface directly by UV printing solution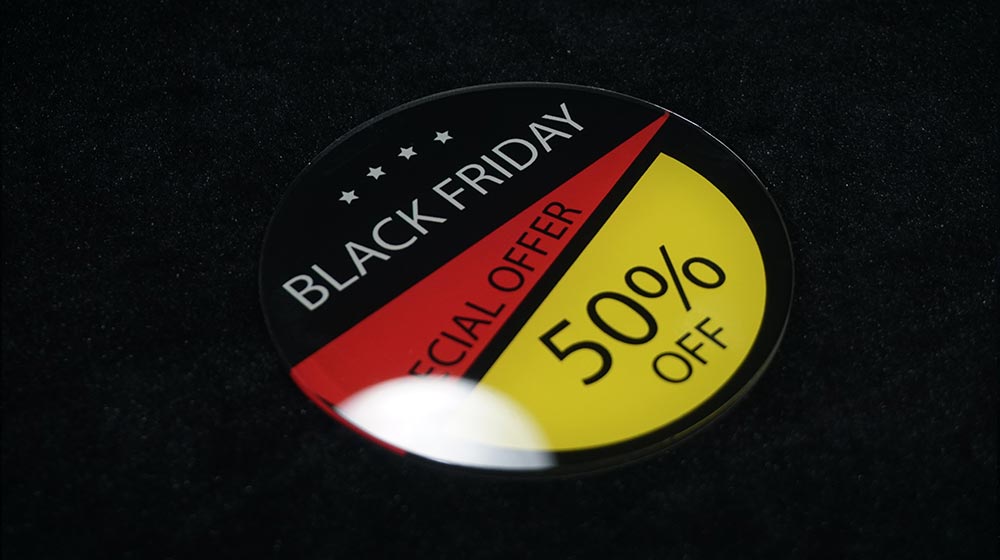 Acrylic Coasters Printing
This is the special material, that not many people use for making coasters, but for some home decorating purposes. Print family photos by the coaster printer is a good option too.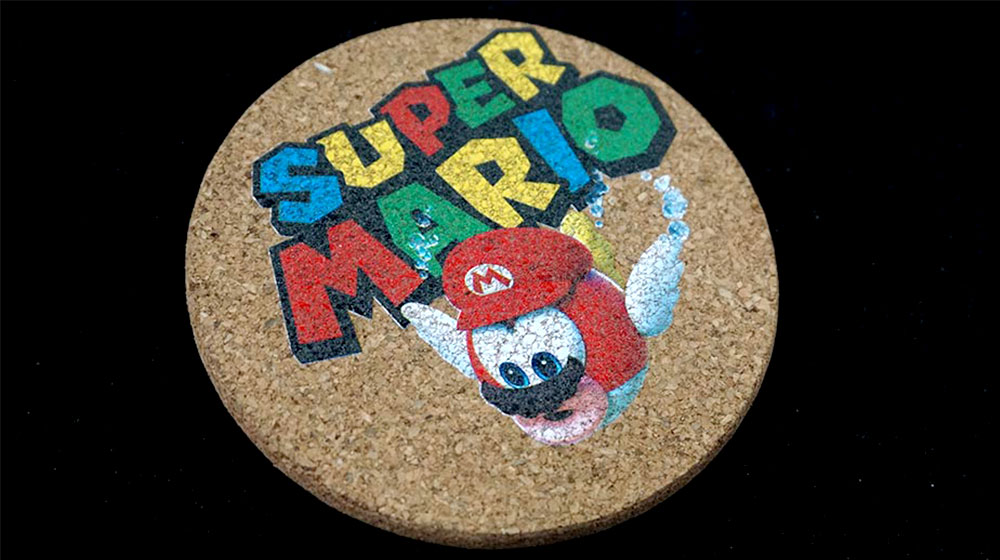 We can find cork coasters everywhere as the cost of it is very low, any scratch furniture. We can make images and logos, designs on it by coaster printer.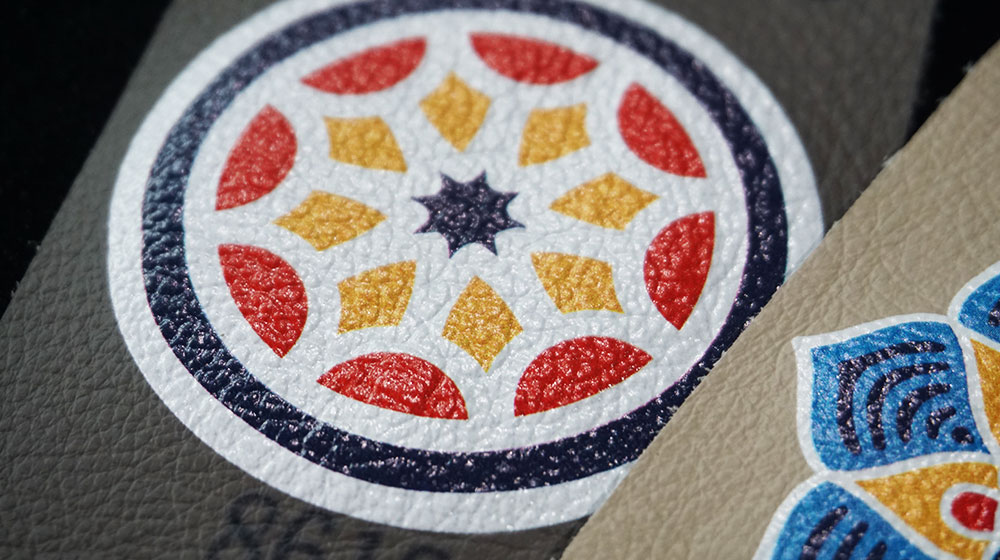 Leather Coasters Printing
You can see the leather coaster was printed by a coaster printer with Logos. Leather is light and soft, to put glass bottle and ceramic cup will good for holding the items.
There are not only the materials above mentioned you can use the UV coaster printer to print on, you can even get marble coasters printed, and plastic coasters printed, but not silicone coasters printed now. 
Coaster Printer Makes Various Effect
As other UV flatbed printer does, UV coaster printer can also provide various custom effects on the coasters as per the request of customer. 
Full Color – Support multi color and full-color printing for most of the coaster custom making
White Ink Only – White color only image and design always are used on custom beverage coaster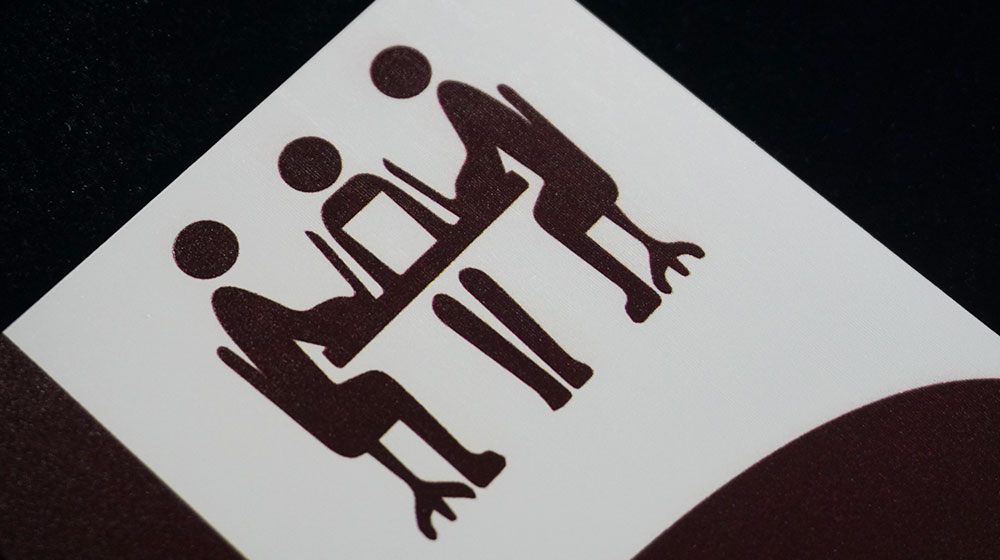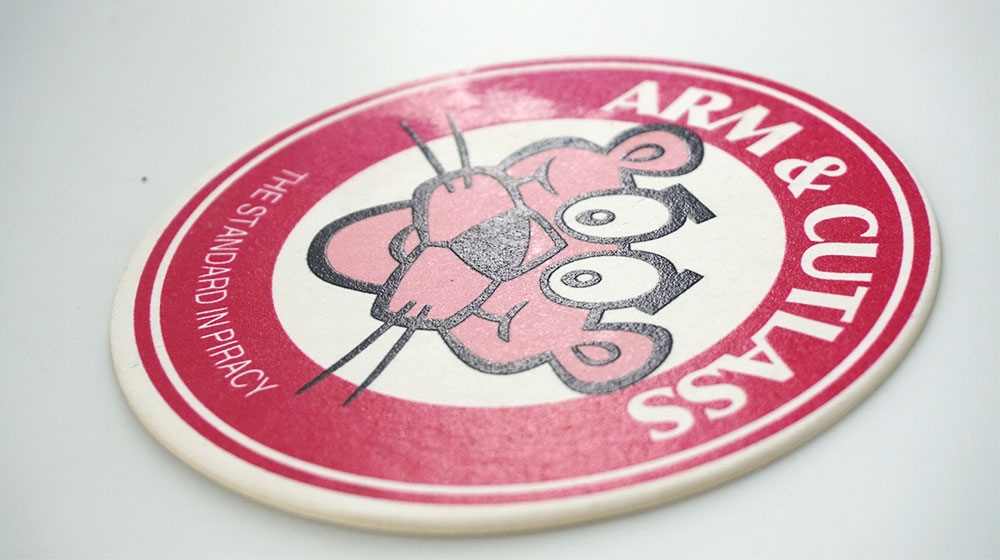 3D Embossed – A good idea is to make kind of embossed effect on coaster
What Coaster Size and Shape can the Coaster Printer Print on?

Let us see that there are a lot of shapes of coaster in the market. The most common is the round or called circle, and square, 9-10cm in diameter or length. Also, you will also see some special like hexagon shapes, heart and star shapes, some rectangle shapes, and even special unregular shapes. Coaster printers can print them in almost all shapes, as long as the coasters are flat and this is obviously they need to be flat to put the cup, glass, bottle on. 
NEIXO Coaster Printer Advantage
When you search a coaster printer, you must have requset on coasting printing business. So why you choose NEIXO coaster printer? Below will be some beneficaries that you may get from our coaster printer. But not only below reason, you will find there are more than what we mentioned below.
Digital Coater Printing Directly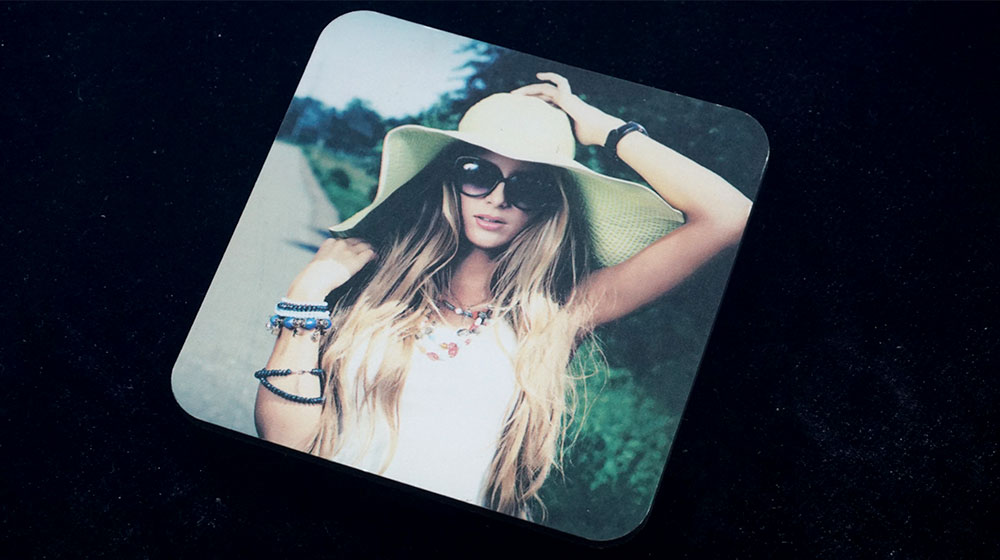 You no longer make any templates or screens. The digital UV printing technology is to do the inkjet printing to the coaster surface directly. After the print process is complete, you can get the item packed and sent out without necessary waiting.
No Limitation of Order Quantity
You can accept order in any quantit with our coaster printer machine, like home decorate, there may need only a few pieces, you can also accept the order with high price but go with coaster printing machine with low cost and complete the order in short time.
As per the digital inkjet UV printing method of coaster printer, we can get the excellent printing quality in detail, it is top business quality guarantee
Best Printer for Start up Business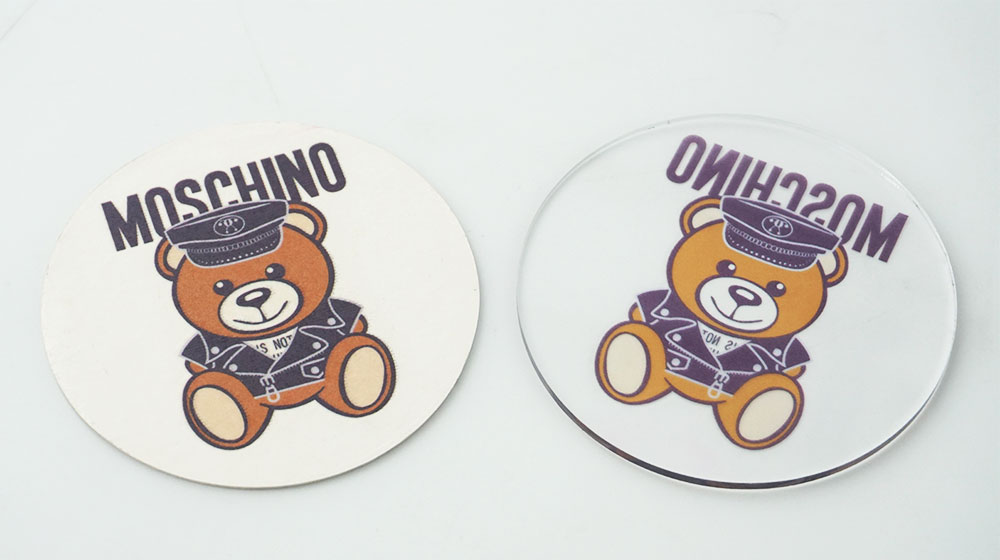 You can get one machine at home or a small place, and this coaster printer can do almost all custom coaster printing jobs like various materials, with no minimum order quantity request. 
Custom Drink Coaster for Any Purpose with Coaster Printer
Using the coaster printer, you can get almost anything printed with UV printing technology for any purpose. Here are more beneficiaries for your reference when you get the coaster printer.
1. Personalization Coaster Printing
Coaster Printer supports printing any designs, images, or messages to the coaster to make it meaningful and unique, it can also be a gift or home decoration item. Some people even print family photos, dog pictures, and any viewing on the paper board coaster, to put on the wall as the home decorations.
2. Branding Marketing Advertising
Printing company's Logo, slogan, and even contact information with coaster printer. Or you can make advertisements and promotional messages for the coasters of bars, restaurants, and cafes to make the brand show to customers, there are the top benefits of using a coaster printer to do the custom coaster printing business, and most of the orders are related to this purpose.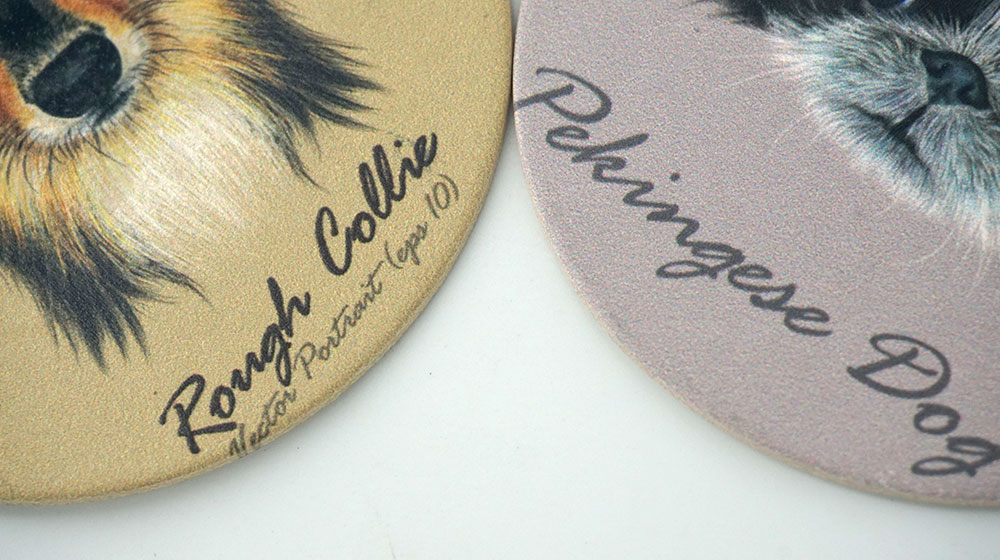 Another popular use of the coaster printer is to print special custom coasters in small quantities for special occasions like weddings, anniversaries, company dates, and birthdays. Imagine that for a wedding, your cline wants to show the names of marriages, dates or any happy words on the coaster, but the quantity is about 200 pieces, with a coaster printer you can complete this order very easily, for larger size printer you can complete them in a few printing process with 1 hour.
4. Design and Art Showing
Some artists and designers can use the custom coasters as a kind of canvas for the creative show. They can make unique design patterns or any artwork, also for the coaster culture printing  on the coaster with the coaster printer in a very easy way, very convenient.
Coaster Printer Jig and Fixture
Since there are different sizes and shapes for many different coasters, like a circle, squares are the most frequent coaster shapes. You will also find special shapes like heart shapes, and star shapes for various uses. Our coaster printer supports the jig to fix the coaster during printing, and it is a good option for mass production.
3.5-inch 4-inch and 4.5-inch round and square shape coasters are the most popular shapes in the world. We provide the jig for this size holding them to make coasters printing.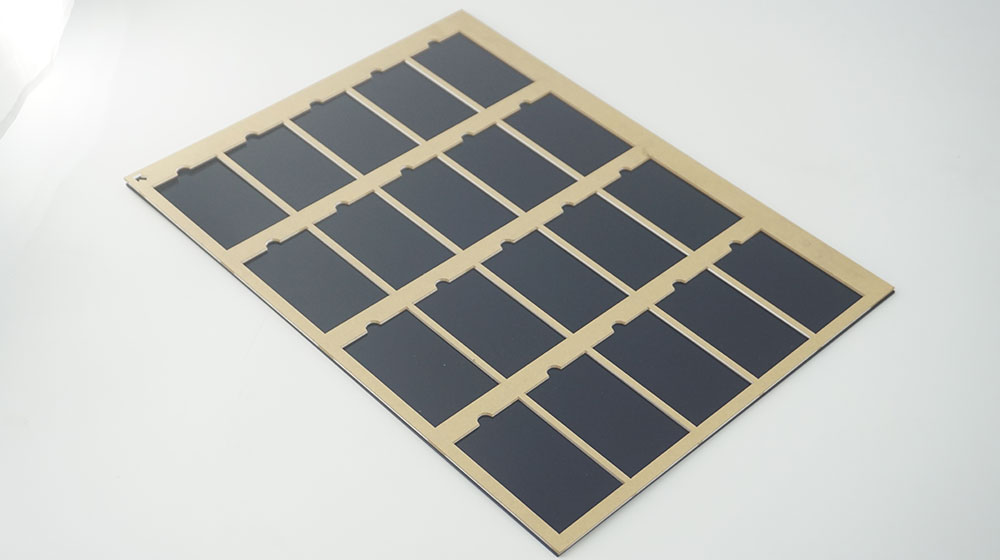 For the special shape of the coaster printing request, if we have the drawing we will be able to make the jig for your printing request in the coaster printing business.
Cooaster Printer Maintenance and Support
The maintenance of the coaster pritner is very easy, we have a series of tutorials for the printer operation, software using, image making, printer maintenance and coaster location and printing. You may have questions and we have FAQ below for you:
How to make images of the coaster before printing? You only need to make the image in PC with Photoshop, coreldraw accordingly to the coaster size.
If you have any tutorials of the printer operation and maintenance? Yes we have detail step by step tutorials in video so you can follow to complete it very easy. 
If you have sofware completed with the printer? Yes we have the printer operation software and print out software together with tutorials, you do not need to worry about software using.
How long will the printer ship out after payment? We usually can send out the printer wihtin 3 wording days some time even in 1 working day after final checking and packing.
You will not need to worry about the service of the coaster printer using, as it comes with a very strong technical support by the original printer engineer team for your any question.
Contact for Coaster Printer NOW!
You can send us your Logo or Image, Design to us so we can print the sample coaster by our coaster printer for your refrence!